The current kitchen trends tend to reflect the trend for open-plan living. Opening up the living areas of your home enables everyone to fully engage in family life. And if you love entertaining, it's a great way of being able to talk to your guests while you cook – you'll no longer be working on your own in the kitchen while everyone else chats.
However, open-plan living means more demands on the design of your kitchen because it will be on view all the time. You won't be able to leave the washing up in the sink and shut the kitchen door behind you any more! This means more thought has to go into the design of your kitchen so it both blends in with the design of the rest of the room and is also good to look at. You do not want a lot of clutter on view in your living area!
So the kitchen trends for 2022 are predominantly design-led to reflect the kitchen's new status as an integral part of your living space.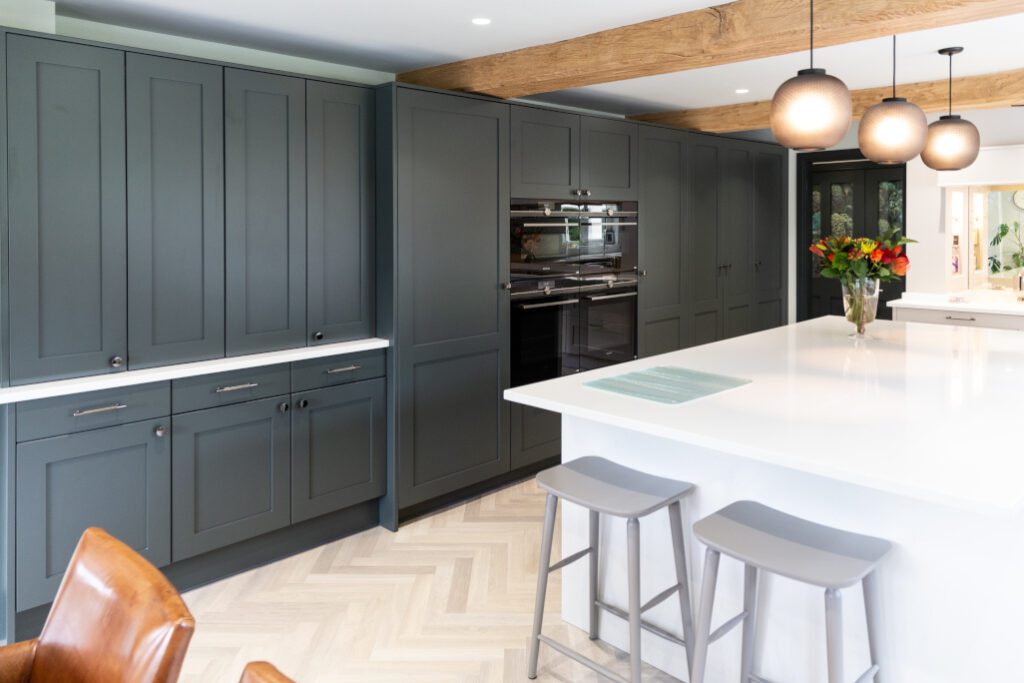 Kitchen Trend 1: Beautiful Colour Palettes 
While white kitchens are still hugely popular in stand-alone rooms, kitchen units with bold colours are more suited to open-plan living. Cabinet doors in rich blues and greens are particularly popular in 2022 because they add warmth to the space without overwhelming it. The right coloured cabinets will look great for years, providing a stable backdrop for any changes you make to the rest of your living space. 
Kitchen Trend 2: Clever Storage Solutions 
Cluttered work surfaces are the last thing you want to be looking at in an open-plan living space. That's why kitchen manufacturers are constantly developing innovative ways of making the best use of cupboard and drawer space. This will enable you to keep all your kitchen equipment out of sight at the same time as it being easy to access when you need it.
Kitchen Trend 3: Integrated appliances 
With aesthetics being an increasingly important factor in kitchen design, there is a kitchen trend for integrated appliances that can be hidden when not in use. We're used to integrating large appliances such as fridges, dishwashers, and washing machines, but integrating the smaller appliances that are responsible for cluttering your work surfaces is very much the latest kitchen trend too.
For example, people are opting for microwaves and coffee makers that are integrated into cupboards, as well as weighing scales and chopping boards integrated into drawers. Health-conscious cooks no longer need a separate steamer as steamer ovens are extremely popular as well as being a practical way to cook healthily.
Kitchen Trend 4: Boiling water taps
A big kitchen trend for 2022 is to install a boiling water tap. These provide as much boiling water as you need on demand, which means you can completely get rid of the kettle. And as you only boil the water you need, you'll save energy by not overfilling the kettle and wasting energy boiling water you don't use. An additional reason why boiling water taps are so popular is that they can also provide you with chilled water whenever you need it. Fantastic for both summer and winter! 
Kitchen Trend 5: A pantry
Pantries are back in style. Use this small, cool room to store your groceries and ingredients. A pantry is ideal if you live in the middle of the countryside and need to keep enough essentials in case bad weather prevents you from getting out and your deliveries getting in. It's also perfect if you love entertaining and need lots of space for all the ingredients you'll be using.
Kitchen Trend 6: Pendant lighting 
When it comes to kitchen lighting, you'll need well-positioned lights that are bright enough for you to be able to see what you're doing. But people also want to spend time in the kitchen, so adding mood lighting is important to create an atmospheric living space too. Pendant lighting is a current favourite as it creates a warm atmosphere as well as providing interest and colour to your kitchen.
Pendant lights and light shades come in all shapes and colours, which means you can add personality to your kitchen. As they're low cost and easy enough to replace yourself, you don't have to worry about choosing shades that will last as long as the kitchen – you can buy them on impulse and simply replace them whenever you fancy a change. 
If you'd like to see the latest kitchen trends for yourself, download our latest brochure or book an appointment to visit our kitchen showroom. 
01992623066 | Download Our Brochure | Visit Our Showroom