One of the questions we most commonly get asked is:
This is a difficult one to answer because every project we work on is unique, which means of course, that no two kitchens are ever the same price.
In this guide, we take a look at all the factors that will influence the price of fitted kitchens in order to give you a better idea of what your final budget might be.
If you want to know how much a bespoke kitchen costs
Call Us On: 01992 623066 | Visit Our Kitchen Showroom | Download Our Kitchen Brochure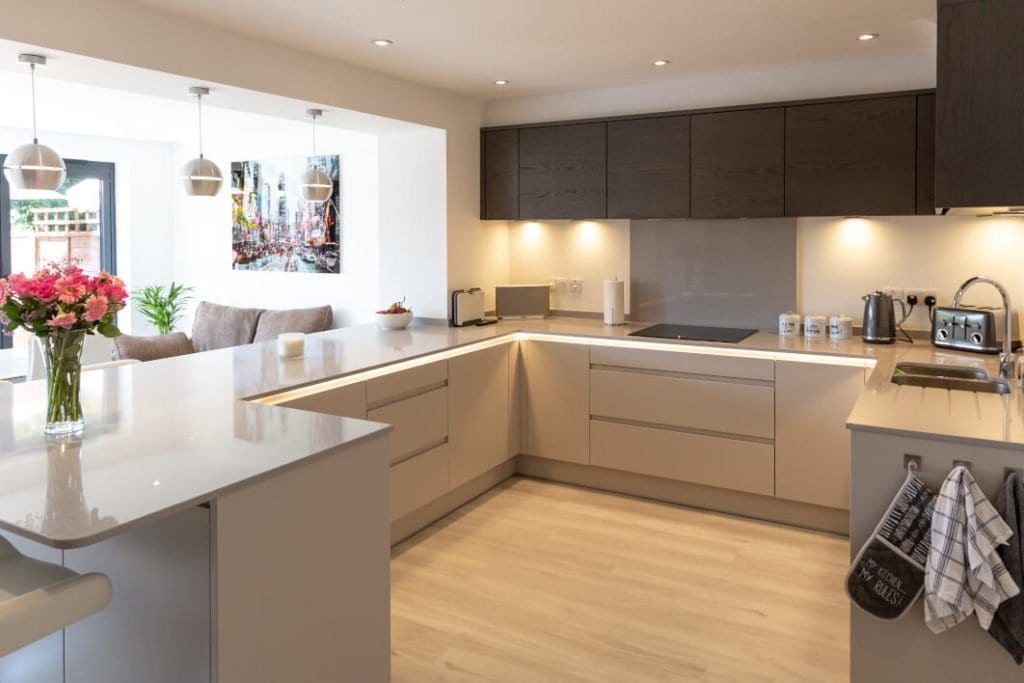 The size of your kitchen
This seems a rather obvious one but it is more about the number of units you have rather than the size of the room. Naturally, the more units you have the higher the price will be. For example, even if it's a large room but you also have a dining or seating area in the room, you may not actually have any more kitchen units than someone with a smaller room.
Having a large kitchen often means including a kitchen island in the design, which is of course a fantastic addition to any kitchen. However islands typically add upwards of £5,000 to the overall kitchen cost – sometimes more depending on the design.
Kitchen furniture
The style of kitchen furniture and the material it is made from is another big factor to consider when budgeting for your new kitchen.
The doors and drawer fascias are the most expensive part of the kitchen unit, so what they are made from can dramatically affect the price. For example, a solid timber door will generally be around 30% more expensive than a MDF painted door or imitation wood. Even if you opt for a gloss finish, you have to take into account the different types of gloss – from full lacquer to a wrap door – which vary a great deal in price.
The style of the door also has a bearing on the cost, though generally speaking, the plainer the door the lower the price. For example a slab door will usually cost less than a shaker style and having an in-frame kitchen will generally be more expensive than a lay on door because it will need a more extensive manufacturing process.
Traditional kitchens styles can be more expensive than modern ones when you factor in the additional cost of more elaborate features such as pilasters, cornice and pelmet, and tongue and groove panelling that usually form part of the traditional look.
However when choosing furniture you must remember that it is the most permanent aspect of your kitchen. Kitchen worktops and appliances can always be changed at a later date, furniture can't, so it is important that this is the area you don't compromise on. Our advice is to go for what you really love and what you think will last the test of time.
Kitchen Design
The design of the kitchen itself will greatly affect the price, and that's why it's important to discuss your budget with your designer at your consultation.
Bespoke items such as corner drawers, shaped units, custom designed storage units and non-standard size units will all add significantly to costs. Additionally, sets of drawers are generally more expensive than cupboards, although they do provide a much more practical storage option.
Also, what's inside your cupboards can impact on your budget. Internal drawers, larder pull outs and pull out corner solutions are fantastic for storage, but just be mindful when requesting them as they all add up.
Kitchen Appliances
The prices of appliances can vary enormously – a single oven can range from £600 to over £6,000! Therefore you can see how the choices you make in this area will have a huge effect on your total spend. Research the brands of appliances that you feel are a good match for your needs and give the look and function you want. Remember that most appliances are a standard size so can easily be changed at a later date. Therefore it may be worth compromising on this area so you can splash out on the more permanent features such as kitchen furniture.
Kitchen Worktops
Kitchen worktops again vary hugely in cost, but the most cost effective one is made from a laminate or formica material.
Natural stone, quartz or Corian are all significantly more expensive, although they do enable more design possibilities and create more of an impact. But if budget is an issue, again this could be an area that you compromise on for now and change at a future date.
Building works
The amount of building and preparation works needed to accommodate your new kitchen is a huge variant in how much it will cost.
For example you may wish to significantly change the layout of your current space, which could involve knocking down walls in order to create a new space which will then need new electrics, plastering, flooring etc to suit the new layout.
Or even if you want to keep roughly the same layout, you may wish to add LED spotlights to the ceiling or include designer radiators or new flooring in the room.
You may be doing an extension or total house refurb, in which case the associated building works are usually included in the builders remit.
Always make sure that with any fitted kitchen quotations you receive that due consideration has been given to all the necessary preparation and building works involved with your kitchen project, as there is often much more involved than simply installing the furniture, worktops and appliances. Our kitchen quotations always include all these necessary elements which can make the overall cost seem higher, but this is because it is a full and comprehensive quote for the full project.
Other factors to consider
Light fittings, wall coverings and accessories are all the finishing touches to consider when budgeting for your fitted kitchen.
Do you need to buy a new kitchen table and chairs or bar stools perhaps? Do you want to create a statement with a large pendant light fitting?
Will you need a new kettle and toaster to suit your new colour scheme?
These items can all add up so it's worth setting aside so money in the budget, as the finishing touches will make all the difference to the look of the finished room.
In summary
There is no one size fits all answer when it comes to answering the question 'how much is a fitted kitchen'. Our experience when quoting has led us to suggest that our kitchens generally start from around £30,000. However, much like when you buy a brand new car that is what we consider the 'base price', you will then select all the additional extras which all add to the final price.
The most important thing to remember when embarking on a new kitchen project is that it is something that you don't do every day. It's a big purchase so it's important to spend the money getting it done properly and exactly how you want it.
Your kitchen is the heart of the home and is a room you'll spend time in every day. It's therefore important to choose the right options for you, and when it's done right you can enjoy it for many years to come, as well as add value to your home.