At Dobson's safety & accessibility meets luxury design. We have stunning disabled bathrooms with walk in showers that are perfect for all abilities and restrictions. We know that for people who have physical challenges, bathrooms can be problematic. Whether these challenges are due to disability or loss of mobility through ageing, an adapted disabled bathroom can really help you retain your independence.
The good news is that adapting your bathroom to be easily accessible does not mean you have to compromise on looks. Luxury Adapted disabled bathrooms can look great too, without any loss of functionality. In fact, you may unwittingly already have the makings of one if you have a walk in shower tray and fixed glass.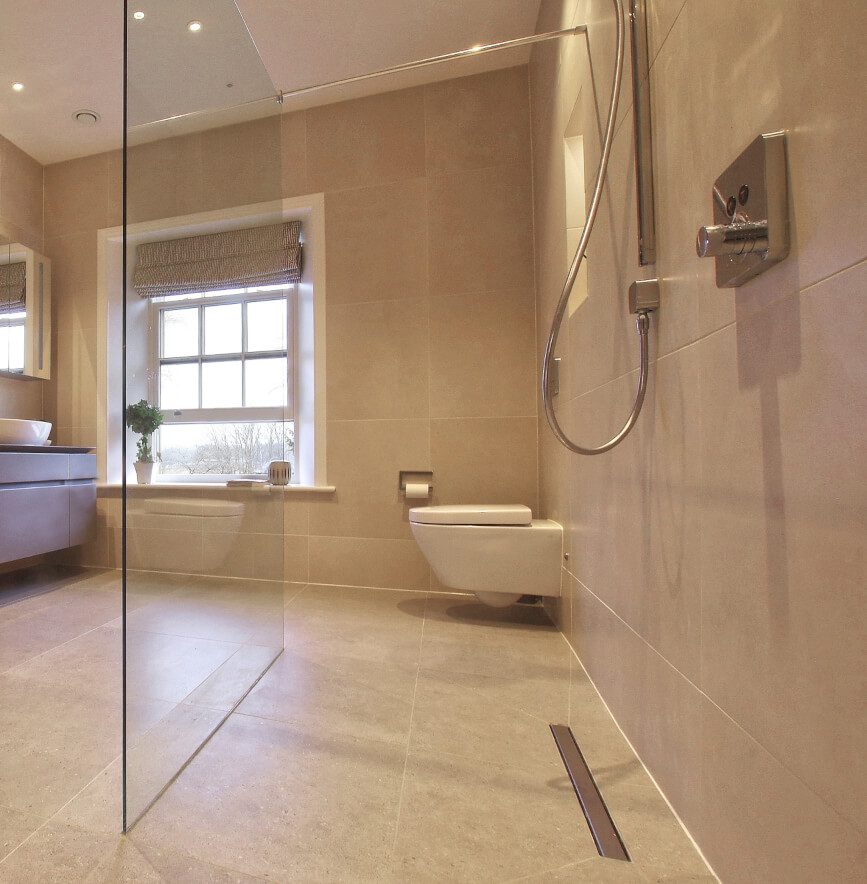 Walk In Showers 
Walk in showers are a great addition to any bathroom, but not all shower trays are created equal. Adapted disabled bathrooms place far greater emphasis on the ability to easily enter or leave the shower area. Therefore it is essential that the floor finish outside of the shower is level with the outside edge of the tray. Most shower trays will have a raised lip around the outside. Although shallow in height, this lip could make it more difficult to leave the tray while in a wheelchair. In this instance, the choice of tray should have a continuous gentle slope from the outer edge to the drain.

Wet Areas And Open Shower
The Benefits of an Open Shower 
The open plan nature of a wet room is often more beneficial to those with greater restrictions to their mobility as well as being a popular bathroom design. As the entire disabled bathroom is waterproofed, rather than just the shower area, you don't have to worry about walk in shower doors, partitions or curtains. So if you need to have chairs, wheelchairs or adaptations that allow you to be able to use the wet room independently, space will not be a problem. 
Space Optimisation with Wet Areas
Wet areas are installed in bathrooms where space is more of a premium. A pure wet room is completely open which means that towels, soap, toilet rolls or the shower room door are likely to be hit by water from the shower. With a wet area, glass screens are installed to prevent water from leaving the designated showering area. More often than not, it is only this space that needs waterproofing rather than the entire room.
Importance of Shower Screens in Wet Areas
It is important to remember the size of the shower screen when opting for a wet area, rather than a wet room. Its role in retaining water is as important as the access or showering space it provides. There are many solutions available and the most suitable will come down to the degrees of mobility, space and layout of the room.
Accessibility Considerations for Walk-In Shower
Whether you're opting for a walk-in shower or a wet area, the floor will need to be gently sloped so the water will drain away. You will also need a non-slip finish too. You don't need to compromise on looks though, as there are many stunning bathroom floor tiles that are non-slip, so everyone can use the walk in shower without realising that it's also accessible to all.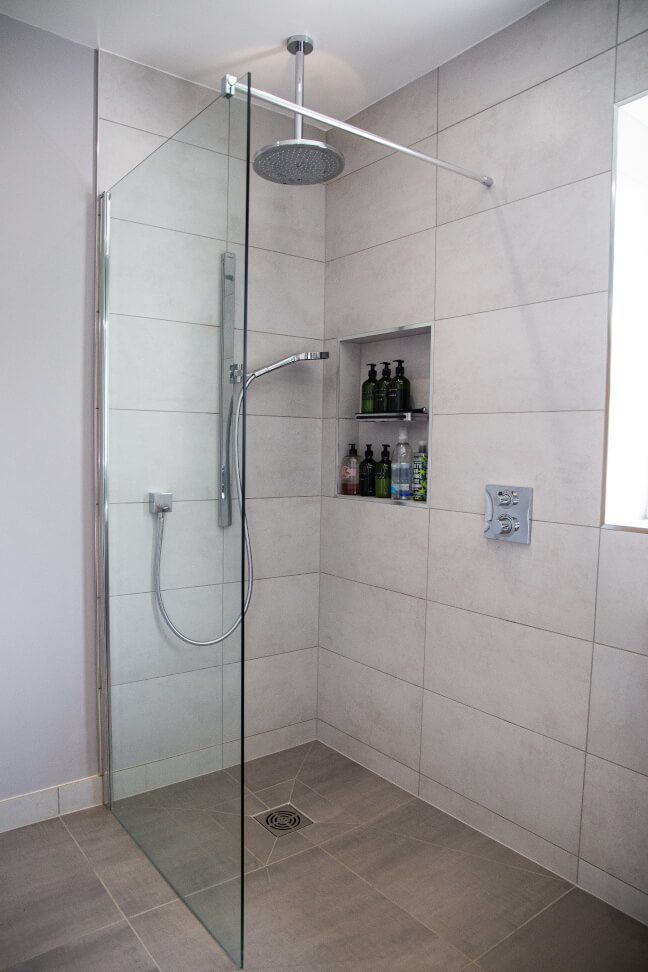 A Real-Life Adapted Disabled Bathroom 
We were asked to install a walk in shower room with a wet area for a customer who is a wheelchair user. Our brief was to create an accessible bathroom that was stylish and modern, yet not obviously adapted. The main adaptations involved removing a dividing wall, wall-mounting the toilet and installing a wall-mounted sink, which was placed so it could easily be accessed by both seated and standing users. The finished project gave the client a stunning room that, if you didn't know better, you wouldn't realise was an adapted bathroom. Click here to see what we mean. 
Shower Seats And Accessories 
There is a huge range of accessories that are available to complement your adapted disabled bathroom. Walk in showers with seats are available in a wide range of sizes, designs and colour finishes to blend perfectly with your colour scheme. These can be mounted onto the wall in your shower area and fold down when in use and fold back afterwards so they take up minimal space in your walk in shower. 
Nowadays grab rails don't need to be unsightly and shout disabled bathroom. You can select support bars in a variety of finishes, including the most popular chrome, which then blends in with your brassware fittings. Whether it is a toilet support rail or shower grab bar, you can find something that provides comfort and safety as well as being aesthetically pleasing. 
If you would like to talk about what's possible for an adapted bathroom or how you can make your bathroom wheelchair-friendly,
Call Us On: 01992 623066 | Visit our Chestnut Bathroom Showroom | Download our bathroom brochure