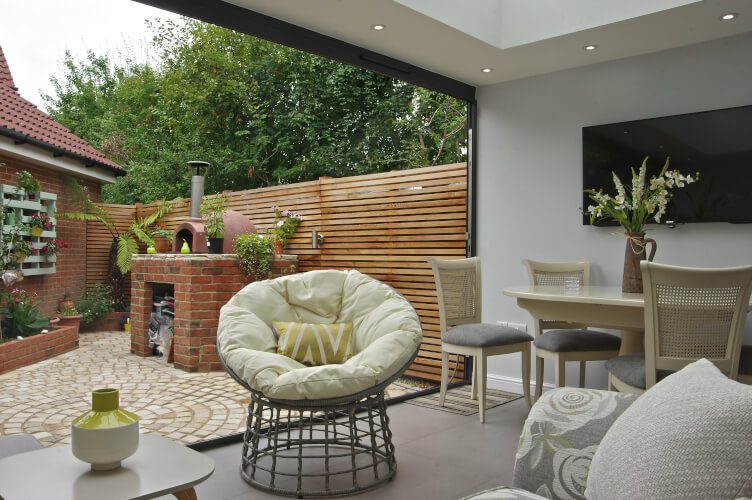 If you're thinking about making major changes to your kitchen or are about to embark on home renovations, think about how much of a difference bifold doors could make. By installing bifold doors between your kitchen and your garden, you can create an indoor-outdoor space that could double the size of your kitchen!
In the winter, having a wall of double-glazed glass will give you more daylight to work in without drawing away any of the room's heat. It will also give you a great view of the garden, which could be a good excuse to fill up some bird feeders to give you something to look at as you cook! 
However, it's in the summer months that bifold doors between the kitchen and the garden really come into their own. By opening up the entire wall, you can create an indoor-outdoor kitchen, significantly expanding the size of your current kitchen space and allowing you to fully embrace al fresco living and entertaining on beautiful summer days and wonderfully balmy nights. 
If you are looking for kitchen bifold doors
Call Us On: 01992 623066 | Visit Our Kitchen Showroom in Hertfordshire | Download Our Brochure
Making the garden a part of your kitchen
To make the most of your indoor-outdoor kitchen space, you'll need to think carefully about design. And the flooring will be one of the most important elements. Using the same flooring in your indoor kitchen and your outdoor area will create a seamless connection between the two, showing that even though it's outside, the external area is still part of your kitchen.
This means you'll have to choose your flooring carefully, using frost-proof and waterproof materials that will withstand the British winter.
Another good design tip is to incorporate a hob and/or sink into an island, making sure they're positioned to give you a good view of the garden as you work. It's also a good idea to keep tables and chairs out of the way of the bifold doors in order to keep walkways clear and allow easy access between the two spaces.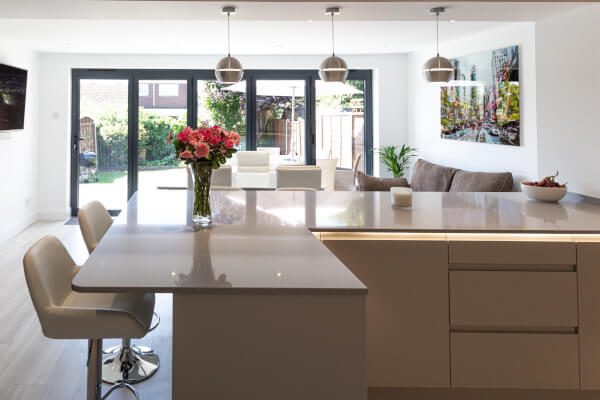 Summer parties will be so much better
With enough outdoor space for a barbecue or a pizza oven (or both!), you can take full advantage of cooking outdoors for family and friends. You won't need to keep running in and out of the house to fetch things from the regular kitchen. It also means that, as hosts, you won't need to keep leaving the party to check on things, so you'll be able to enjoy your own party to the full.
Make your garden lighter
Glass becomes reflective when it's dark on one side and light on the other. This means that when you have the bifold doors closed at night, they'll turn into wall-sized mirrors. To avoid this, install exterior lighting that will prevent the mirror effect and draw your eye outside rather than having to look at yourself washing up!
Outdoor lighting can hugely complement your home, and with the subtle use of colours, you can really give your garden an almost feel magical at night, providing a wonderful backdrop whether you're entertaining guests or cooking dinner.
Bifold doors offer exciting possibilities to completely transform your kitchen space, filling it with light, sunshine and fresh air. It'll give you the illusion that you're living al fresco in the summer, especially as it'll enable whoever's cooking to join in with the family activities at the same time as keeping an eye on dinner. 
If you're planning an indoor-outdoor kitchen as part of your home renovations, contact us us via our website or call us on 01992 623066 – whether you'd like to book an appointment to visit our Cheshunt showroom, book an appointment with one of our specialist designers or just have an initial chat.