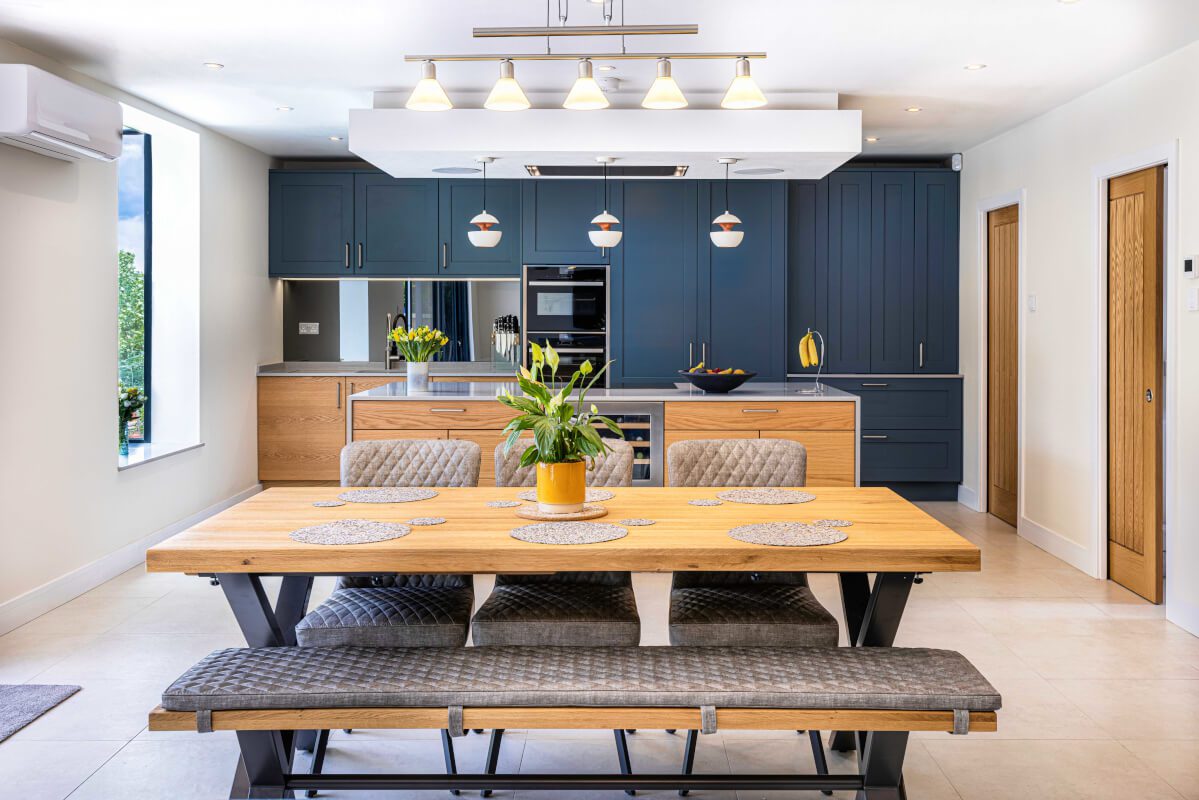 Modern Kitchen Bespoke Build & Installation
Our clients Mr & Mrs M were undertaking a major refurbishment on their property which they had recently purchased in Hertford and approached us for modern kitchen ideas and design concepts for their new open plan family kitchen and living space which was to be the focal point of their new home.    
A professional couple with young children, they were looking for a practical family kitchen which was also durable to withstand everyday family life but also had the wow factor. They love entertaining and spending time with family and friends in the kitchen and both are great cooks, so an island with prep space facing the room was very important both to socialise and keep an eye on their lively daughters.
They fell in love with Stoneham furniture and loved the warmth and depth of the 'Light Oak' door from their Ambience range which has a wonderful mid-century feel. This was paired with Stoneham 'Edwardian' shaker furniture painted in 'Thunder Grey' for the tall and wall units to provide a striking contrast and bring some colour into the design. 
The vertical dresser unit with bi-folding doors provides excellent storage and keeps worktops free of clutter by hiding small appliances such as toasters and food processors out of view.  The drawers below provide excellent storage for cooking equipment and pots and pans. 
The furniture is complemented perfectly by the grey tones of the 'Aluminio Nuve' Silestone worktop which frames the island and makes the oak furniture 'pop'. 
When it came to appliances, Neff was used throughout. A full-height fridge and freezer were required alongside the Neff full-size steam oven with a compact oven above. 
The island includes a large induction hob with an integrated ceiling extractor, allowing a clear unobstructed view of the beautiful space whilst cooking.  Central in the rear of the island is the compact Caple wine cooler, situated within easy reach of the dining table therefore perfect for entertaining or for evening meal times. 
The modern kitchen is completed with the customer's own family dining table with bench seating and the large aluminium sliding doors allow the room to be opened up and the kitchen and garden to be as one. A fantastic modern open-plan living space.
Are you looking for a new open-plan family kitchen?
Call Us On: 01992 623066 | Request A Showroom Appointment | Download our Kitchen Brochure
View Our Bespoke Kitchens