Hand showers VS. fixed heads
Our senior bathroom designer Andrew discusses the benefits of the humble hand shower
With so many types of shower on the market, it can be difficult to choose the perfect shower for your bathroom. Here are a few tips we find it useful to take into consideration when making your choice.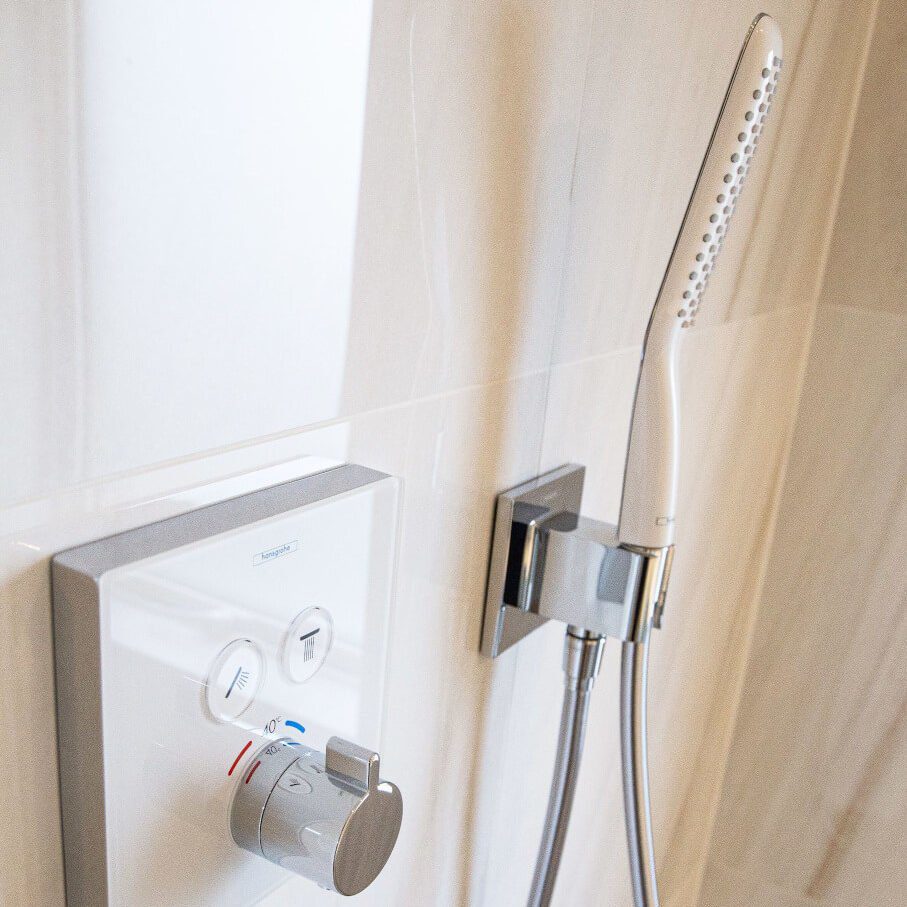 Something that suits the whole family
As a starting point, knowing how each member of your family is likely to shower will ensure you all get the most out of your time spent under the water – age, height and length of hair all have a bearing.
The trend over the recent years has been to have a fixed head or rain-shower, but for me personally I cannot stress enough the importance of the humble hand-shower.
It's true that a fixed head can provide a modern, unobstructed view of your stunning choice of wall tiles, but all too often the desire for this uncluttered and minimal shower space means removing a hand-shower altogether. 'Overhead', 'Drencher' and 'Rain-shower' are all terms that broadly describe a shower outlet that gives more of a deluge of water from above. For the most part they have little or no adjustment in the spray pattern, direction of water flow or the intensity at which the water leaves the fixed head.
In direct contrast, the variation of shape, size and potential for variable spray patterns make the hand-shower a more versatile showering outlet. The addition of one, even if it's in conjunction with a fixed head, could benefit the whole family.
Why a hand-shower is a good idea
The riser rail for your hand-shower is available in various lengths and can therefore accommodate all users of any height. Quick height adjustment also means those with long hair needn't spend ten minutes washing it and a further fifteen drying it, as the hand-shower can be lowered and the angle of the water adjusted to provide them with a body shower without the need for a shower cap.
If you prefer the more minimal design and want to keep the cleaning process as brief as possible, then choose a shower valve with an integrated wall outlet and parking bracket rather than a rising rail.
A hand-shower also makes cleaning easier. Although you can clean your shower walls, glass, tray or bath with just a fixed head, the addition of a hand-shower makes light work of it. To my mind, the easier the cleaning task, the more likely you are to carry it out on a regular basis. Regular cleaning not only means your shower could look pristine for years, but reduces the need to attack built-on soap scum and lime-scale (for those of us in hard water areas) with chemically aggressive cleaning products.
All in all, the advice I most often give to my clients is that a hand-shower, no matter the capacity in which it is used, should be a serious consideration for anybody's shower.