A lot of work goes into planning a luxury bathroom. Bathroom renovation is a huge investment in terms of money, time, and disruption, which means you need to be certain that when you renovate a bathroom, it's not only beautiful; it will also last for years, possibly decades!
Planning your bathroom renovation
The planning stages are therefore crucial. The more time you spend on this stage of the process, the more likely it is that you'll end up with your dream bathroom. This is why our award-winning bathroom designer will work closely with you, to ensure that every aspect of your new bathroom is perfect, and your bathroom renovation is done right the first time.
What does a professional bathroom designer add to your project?
For most people, a bathroom renovation is something that only happens occasionally. As a homeowner, you may only need to install a new bathroom once or twice, so you don't want your lack of experience to result in poor decision-making.
A professional bathroom designer designs and oversees the installation of bathrooms for a living. Based on years of training and experience, they have an intrinsic understanding of what works well (and what works badly) in terms of bathroom layouts as well as in-depth knowledge of product ranges and all the latest bathroom technology – you may be surprised by what's available!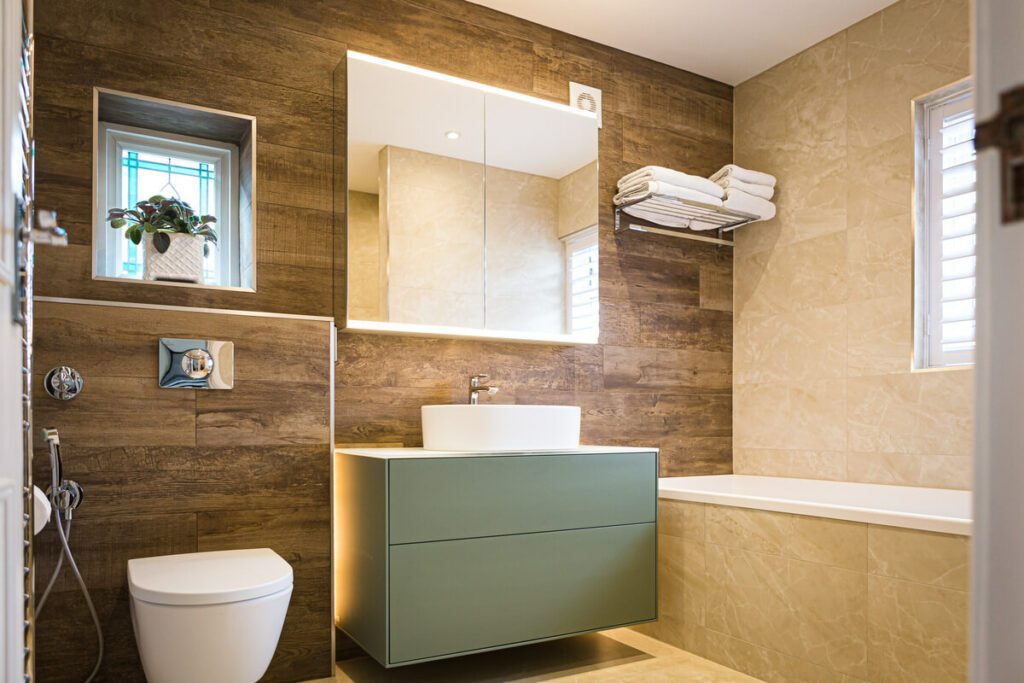 Your beautiful bathroom
Luxury bathroom renovation designers are detail-oriented and will also fulfil the role of an interior designer to make sure your new room is as practical as it is beautiful. They will ensure the look is cohesive, so all the individual components come together perfectly, while also ensuring you have all the bathroom fixtures you need.
They will also make sure that only the best materials are used in renovating your bathroom, from the plumbing work and electrical wiring to the light switches and heated towel rail. This means you can be certain that every element is robust and long-lasting, ensuring your bathroom installation will look good throughout its lifetime.
Themes
While your designer will go through every detail with a fine tooth comb with you as your plans progress, there are a number of top level ideas it would be useful to start thinking about now:
What aspects of your old bathroom do you like? Any positives about your existing bathroom can be incorporated into your bathroom renovation. Conversely, it's also good to note the aspects of your old bathroom you don't like in order to make sure they're not incorporated into the new design.
Who is going to use the bathroom? When you are thinking of doing a bathroom renovation, do you need a large family bathroom or something smaller? A bathroom that's only going to be used by a couple (such as an en suite) is going to be different from one that will be used by families with young children. You also need to think about the accessibility needs of the people using your new bathroom. Walk-in showers and wet rooms are extremely popular and are a great option for people with mobility issues or who need accessible bathrooms.
What style of bathroom would you like? There are a huge variety of bathroom styles so it is always good to have an idea of which one you would like for yourself. Do you like modern and contemporary, or something more traditional that might fit in better with a period property? Check out websites such as Houzz or keep an eye on the Ideal Home magazine for inspiration.
Look at our own portfolio of bathrooms (and kitchens) that we have recently installed for our customers. At this stage you can start thinking about bathroom essentials such as colour scheme, floor coverings, bathroom tiles, sanitary ware, underfloor heating vs heated towel rails, natural light, ceiling lights etc.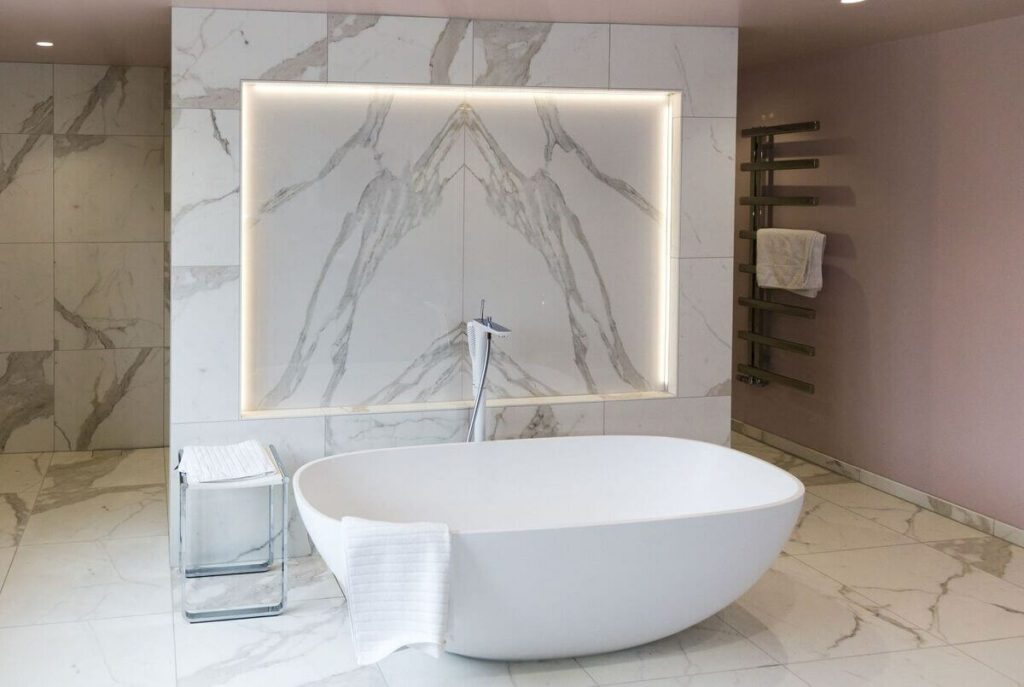 Is the project part of your home renovation?
Many of our customers integrate the installation of a new bathroom with a complete or partial home renovation, taking advantage of our in-house kitchen design and installation, and the installation of new windows and doors.
We can offer project management services to oversee the work, making sure it is completed on time, on budget and to a high standard of workmanship.If you are in the planning stages of renovating a bathroom or thinking about a home renovation, talk to us to find out how we can help you.
Make an appointment to visit our bathroom showroom, where you will be able to discuss your initial bathroom renovation ideas with our award-winning bathroom designers and look around our showroom for inspiration.
Call Us On: 01992 623066 | Visit our showroom | Download our brochure