It's always gratifying to have our luxury kitchen designs recognised, and one of our luxury U-shaped kitchens has recently been listed as one to watch by Houzz. The fact that our project was chosen to be highlighted as one of the best ones out there is even more impressive when you consider there are over 25 million photos of professional projects on the website.
In case you're not aware of it, Houzz is the world's leading platform for home design that's used by more than 65 million people. So if you're planning a new kitchen, have a look because it will give you lots of inspiration!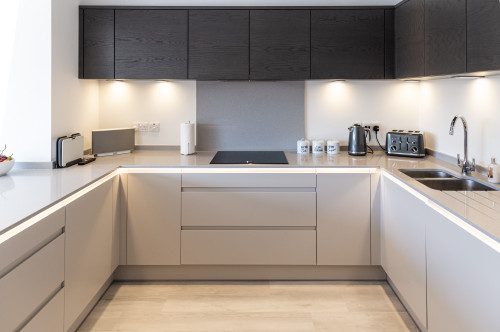 Our U-shaped kitchen, Houzz highlighted was one we had installed as part of a renovated living space. This U-shaped design gives the home owners a great kitchen space and breakfast bar that is part of the family living space, but with the kitchen activities enclosed within the U. This gives whoever's doing the cooking enough space for their kitchen activities at the same time as allowing the rest of the family to come and go safely.
What is a U-shaped kitchen?
A U-shaped kitchen is a kitchen where the units are laid out in a U-shape. It is the most practical kitchen layout, and traditionally it has been used in small kitchens as a way of making the most of counter space and storage space in the corner cupboards. However, it is also popular in large kitchens and is extremely practical for open living spaces.
Maximising space with U-shaped kitchens
There are many benefits of a U-shaped layout, especially if your kitchen is also part of your family's living space. You'll get a lot more countertop space which will help you with preparing your food, as well as more cupboard space because the 'corners' of the U provide lots of storage. Obviously the risk here is that the deeper recesses of these cupboards, the more untidy they'll become, but there are many storage solutions available that will keep them tidy and all your equipment accessible. Having everything in a 'U' around you will help increase your efficiency when you're cooking or baking, because most things will be conveniently placed and close at hand.
Benefits of a U-shaped kitchen in an open plan living area
When you've got a separate kitchen, cooking and baking can be a bit of a lonely affair, especially if you've invited friends over for dinner. When the rooms are separate, the person who's doing the cooking is usually alone doing the food preparation in the kitchen while everyone else is together in the living room or garden. This is why so many people are opting to renovate their homes, changing the layout to bring the kitchen and living areas together.
Having a U-shaped kitchen layout in your open plan living will mean you can join in with family activities while you cook, and be part of the conversation when you have friends round for dinner. There could also be an additional advantage because when people can see how busy you are, they'll be more likely to offer to help!
With a large open plan space to play with (you'll need enough space to house an island of around 1m x 2m), it is possible to install a kitchen island within the U-shape layout. Not only will it create a focal point, it will also give you more storage units and more worktop space, and with ample room for more than one person to cook or bake at the same time.
Benefits of getting a U-shaped kitchen from Dobsons
Dobsons is Hertfordshire's leading company for luxury modern kitchens, bathrooms, windows & doors, and home renovations. We are well known locally for our award-winning designers, high quality workmanship, hand crafted kitchen units, and customer service excellence. We put a lot of effort into attention to detail, from cupboard doors to wall units, pendant lighting or natural lighting, colour schemes to flooring, it's the little details that make all the difference.
If you are planning your new kitchen and would like to know what to expect if you buy it through Dobsons, check out the steps involved in buying a bespoke kitchen. Alternatively, book your initial appointment to visit our Cheshunt kitchen showroom for inspiration and to talk to one of our designers about your plans.