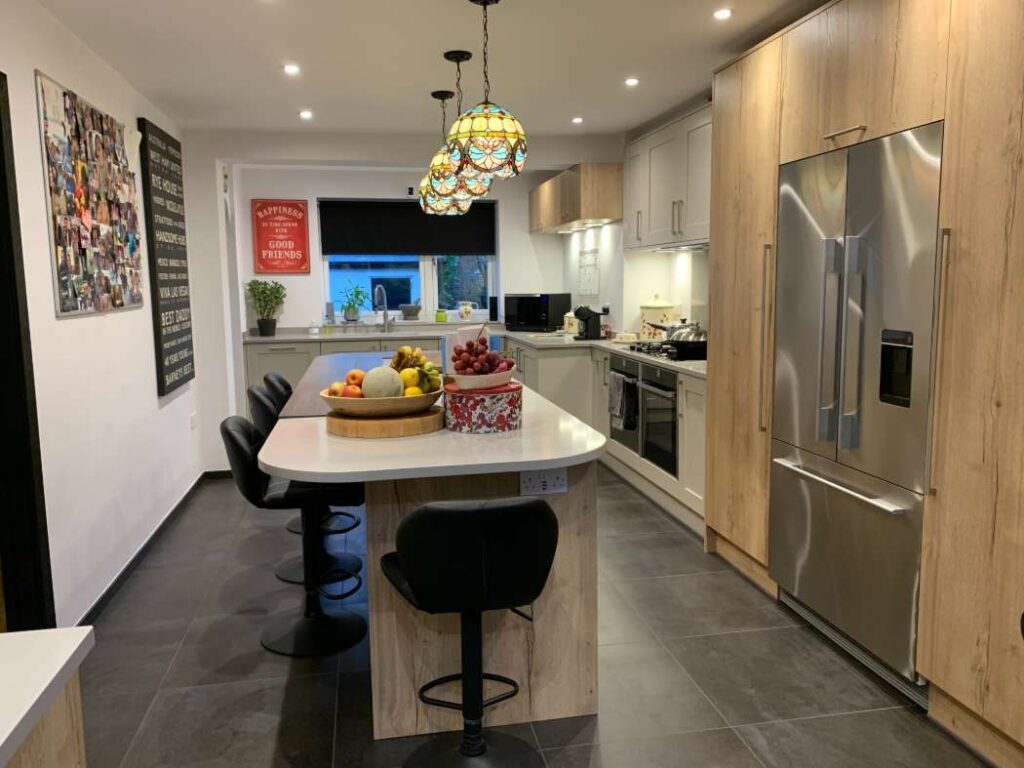 Kitchen islands are always a popular part of people's dream kitchens. They can be the centre stage of your kitchen space, giving your kitchen a more luxurious look and feel.
Kitchen island design
A kitchen island can fulfil many functions from extra prep space and helping you maximise storage, to affording you more entertaining space. When looking for kitchen island ideas, you need to consider how you'll use it as well as how it looks.
Do you, for example, want to include a breakfast bar which the family can use in the mornings as well as somewhere that will accommodate guests while you're preparing for a dinner party? Do you require the extra preparation space, need an additional sink or perhaps a central location for your cooking appliances? The island's functionality in your home will help you decide on the perfect design and size.
Kitchen island size
If you've got a large enough kitchen, the space that's left once you've designed the layout of the rest of the room is what will dictate the appropriate kitchen island size. For your kitchen island to be successful, it's vital that you have the right-sized gap between the island and your other units.
Ideally, this gap needs to be at least one metre; this will provide enough space for people to comfortably and safely move around the kitchen, even when there are people sitting in the bar area. This will also allow you to open doors and drawers with ease.
Minimum size of a kitchen island
On average, kitchen island size tends to be around 1m x 2m, but they can still work well if they're smaller. However, if your available space is less than 1m x 1m, it won't be large enough for a kitchen island to work on a practical level.
If you don't have enough room for an island, but you still have enough room to create extra workspace, then consider having a peninsula instead. A peninsula is almost an island, but one end is fixed to the wall, merging with your other units. It will create more working space than simply leaving the units against the wall, but won't take up as much space as a separate island.
So, as long as your room is large enough to incorporate a one-metre gap around it, your kitchen island can be as large or small as space allows. However, you don't want to create an island that's too big as it would make your kitchen look crowded and uninviting. The general rule of thumb is to make it no bigger than one-fifteenth the size of your overall kitchen space.
Sitting at the kitchen island
When it comes to placing seating around your island, you'll need to factor in a countertop overhang of at least 30 cm to make it comfortable for people to sit at. You also need to be able to safely store your bar stools or chairs when they're not being used so they don't stick out and create a trip hazard.
The number of people that can be comfortably seated on your island depends on the size of the kitchen island. As a rule of thumb, allow a width of 50cm to 60cm per person so they don't feel crowded.
Beware though – there is such a thing as too big
If you have a large kitchen, there could be room to create a gap that's larger than one metre between the island and your units. However, too large of a gap will make it more difficult for you to work effectively, especially if you'll be moving hot pans between the hob and the sink.
What can you use a kitchen island for?
Your kitchen island will provide extra workspace, and you can also incorporate extra storage by fitting drawers, cabinets or open shelving beneath the worktop. The worktop will give you much more prep space allowing the family's chef to be creative when it comes to preparing meals.
The island is also a valuable area on which to install a sink or a hob. In practical terms, what you need is the best possible ergonomic working area based around the cooker, sink and fridge – known as the 'kitchen triangle'.
Ideally, you'll be able to prepare food with everything in easy reach, and by placing either the sink or the hob on your island, you can work effectively, turning between the sink or hob and the other two elements of the triangle when need be.
Contact us to book an appointment at our kitchen showroom – get inspired and talk to one of our experienced kitchen designers. We'll assist you to plan the perfect kitchen island as part of your new kitchen fit out. You'll have a space that's as beautiful to look at as it is practical to work in.
Call Us On: 01992 623066 | Visit our kitchen showroom | Download our brochure