It is actually incredibly difficult to give a simple answer to the question 'How much does a bespoke kitchen cost?' There are such a huge number of variables to take into consideration that it's nearly impossible to give a figure without doing a detailed design first.
You get what you pay for
The most obvious variant when it comes to costs will be the size of the bespoke kitchen. However, it will also depend on whether you want to make structural changes to the room, use the current plumbing layout or make significant changes so you can change the position of the sink, for example. The costs of the kitchen furniture, features, and the quality of the equipment will also have a bearing on the overall price. However, as a starting point, our luxury, bespoke kitchens begin at £35,000.
If you are looking for a luxury bespoke kitchen
Call Us On: 01992 623066 | Visit Our Kitchen Showroom in Hertfordshire | Download Our Kitchen Brochure

There are very good reasons why luxury kitchens cost as much as they do. This is mainly because they're made from high quality materials, hand crafted by specialists, meticulously planned, and are built to last.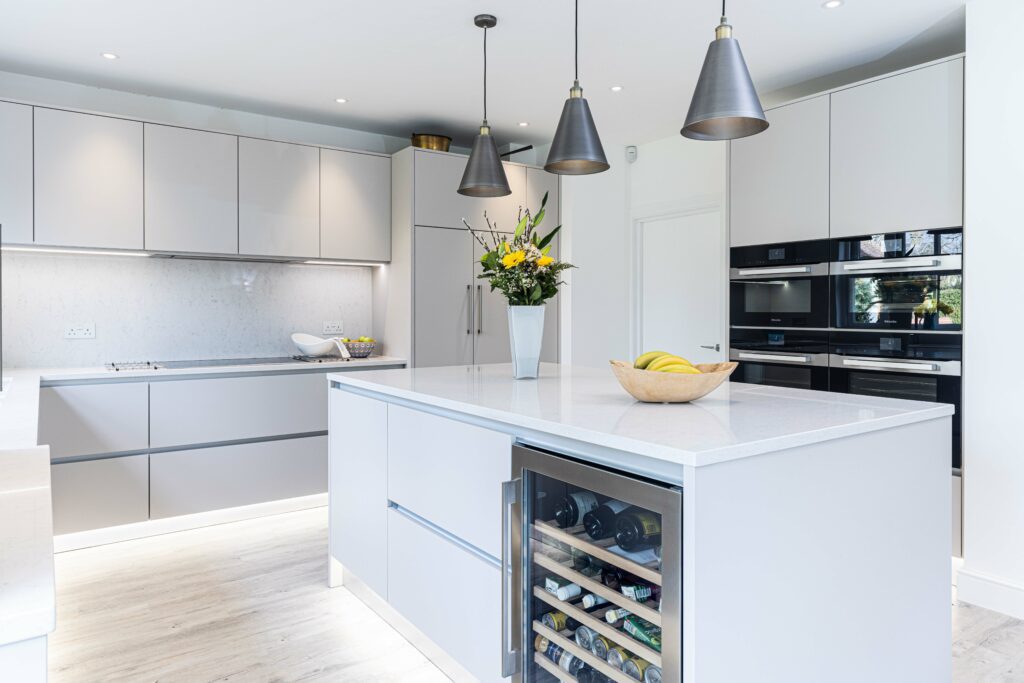 Cabinetry
Our kitchen cabinets are hand built by Stoneham, one of the finest producers of bespoke luxury kitchen furniture. Whether you want a classic or contemporary look, you can rely on Stoneham's craftspeople to create something exceptional. Stoneham prides itself on combining the best of traditional craftsmanship with state-of-the-art technology to create stunning cabinets and furniture that fit seamlessly into the shape and space you have available.
Worktops, floors and walls
The materials you use to create your worktops, and the tiles you use to protect your walls and floors also contribute to the overall cost of your new bespoke kitchen. Whether you opt for quartz, marble, stone, laminates or natural wood, every material will incur different costs.
Appliances
Your new kitchen will obviously include appliances such as an oven, hob, fridge, freezer and dishwasher, but there again, you'll get what you pay for. If you're investing in luxury bespoke kitchen furniture, it is likely that you will want the highest quality equipment to match.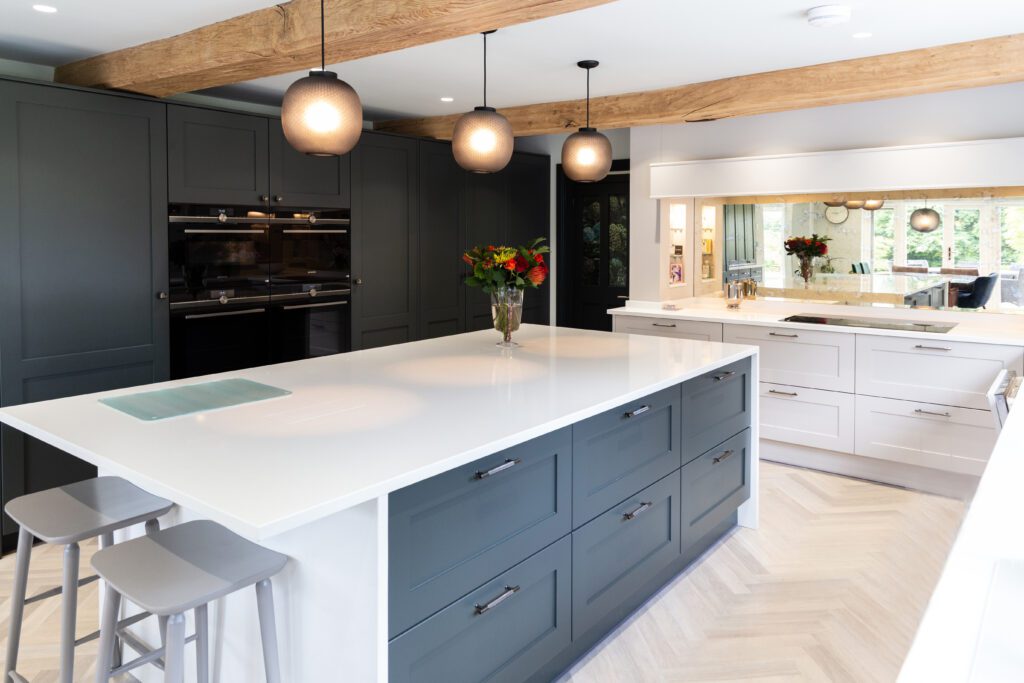 Kitchen designer
The job of an experienced designer isn't just confined to making your bespoke kitchen look good and function brilliantly. Their task is also to make sure that the installation is done right the first time so there are no costly errors that may result in the need for disruptive and on-going repairs.
Our designers will work closely with you to help transform your current room into a stylish and functional kitchen that is perfect for your lifestyle; in other words, they'll help you create your dream kitchen! No detail will be too small – attention to detail and excellent craftsmanship are everything when it comes to great kitchen design – and we're happy to help out with all aspects of your design, for example lighting, the colour scheme, and other features so the end result is perfect for you!
Project manager
When you buy a luxury bespoke kitchen from Dobsons, you get so much more than just the new kitchen. An experienced project manager will oversee the entire installation on your behalf, taking over the headache of organising schedules and deliveries, as well as making sure the job is done well, on time and within budget. So while your PM does all the hard work, you can get on with your life!
Installation
If your kitchen furniture is poorly installed, it doesn't matter how good the quality of the units are, you won't be happy with the finished result. To install a bespoke kitchen you need a trained carpenter with many years' experience. Many homeowners – especially those having kitchen extensions being built – often get pressured to have their kitchen installed by their onsite builders as they are already there carrying out other works. While many builders are perfectly capable of installing a kitchen, by using experienced kitchen installers, like those at Dobsons, you can be sure of a perfect finish every time.
The kitchen of your dreams
Visit our showroom to get inspiration for your new luxury kitchen and discuss your kitchen design with our team of experts. We have plenty of experience creating modern and traditional luxury kitchens, and we'll be delighted to help you design a bespoke space that will reflect your home's style, provide a functional space for your cooking and living needs, and suit your family life perfectly!