In today's digital age, online shopping has never been easier. You can purchase practically anything on the Internet – even a new kitchen (a quick Google search: "kitchen retailer near me") It is tempting.  Shopping online is a great starting point to get inspiration but eventually you really should close your laptop and hit the high street to see if the virtual kitchens are really as good in real life.  Preparation is everything so before you leave the comfort of your home, there are a few things you can do to make sure you get the most out of your visits.
Before your visit to local kitchen retailers 
Make a list of the kitchen showrooms you want to visit (a quick "kitchen companies near me" search on internet), and look at their websites, read any independent on-line reviews and contact them to find out the opening times and any parking issues. Currently at Dobsons we are operating on an appointment only basis to help ensure we can comply with social distancing and you may find that at present you will need to book an appointment at most showrooms rather than just turning up.
Set a budget – As well as the cost of the kitchen, take into account any preparation or building work that might be required and prepared to discuss your budget with the designers it might seem a bit embarrassing but it will save you a lot of valuable time going forwards.
Put together a file of pictures, notes and thoughts and talk to your friends and family about what works really well in their kitchens. Try to notice how you use your kitchen day to day and record that too.
Make a list of all the questions you want to ask, for instance how the cupboards are made, what is the lead-time and how much is an average project. It is also worth finding out what levels of service are offered, for instance, is a full refurbishment service offered or just a kitchen fit. At Dobsons we cater for both types of project but this may not be the case with every company.
When you are in the showroom
Make a note of the appearance of the showroom, is it clean and tidy, do the displays look fresh and up to date.  If the kitchen retailer does not take pride in its showroom, it may be that they will not take the best care of your project.  Get up close and personal, open all the doors and drawers to test the quality,  look at the hinges and check the smoothness of the drawer runners.  
Ask all your questions as they will help you decide if the company is reputable and offer the service and quality you want.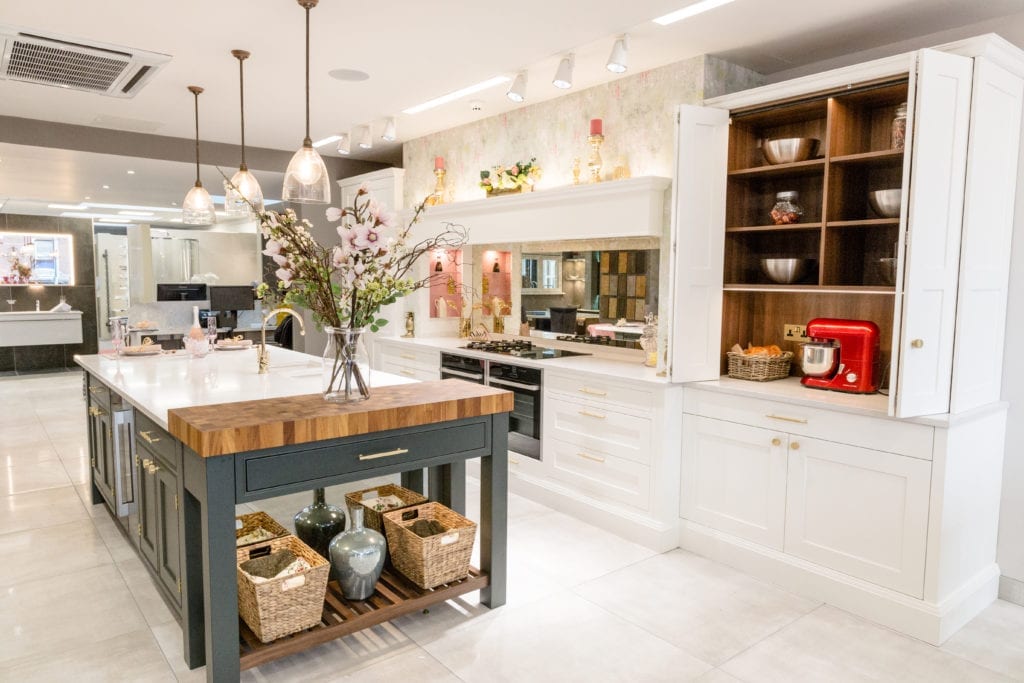 After your visit
When you leave a showroom take a few minutes to make a note of your impressions, what the showroom looked like, how well you got on with the designer and if you think the company would be able to assist you.  Once you have found a designer that is right for you then arrange a home for a visit and design consultation to take your project to the next stage. 
At Dobsons our experienced designers will be delighted help you on your exciting journey to your dream kitchen, why not arrange a visit to our showroom and we can get things started.
Request A Dobsons Showroom Appointment