Kitchen islands are a great addition to any luxury kitchen, and when you've got lots of space, an island can really bring the room to life. There are lots of choices you can make when it comes to design, but here are our predictions for the most popular kitchen island styles in 2021.
Curvy islands
You can create beautifully fluid lines with a curved kitchen island, or have an island with pleasingly curved ends. The Stoneham kitchens we specialise in are bespoke made, so you can get as creative as you'd like to with the shape of your island.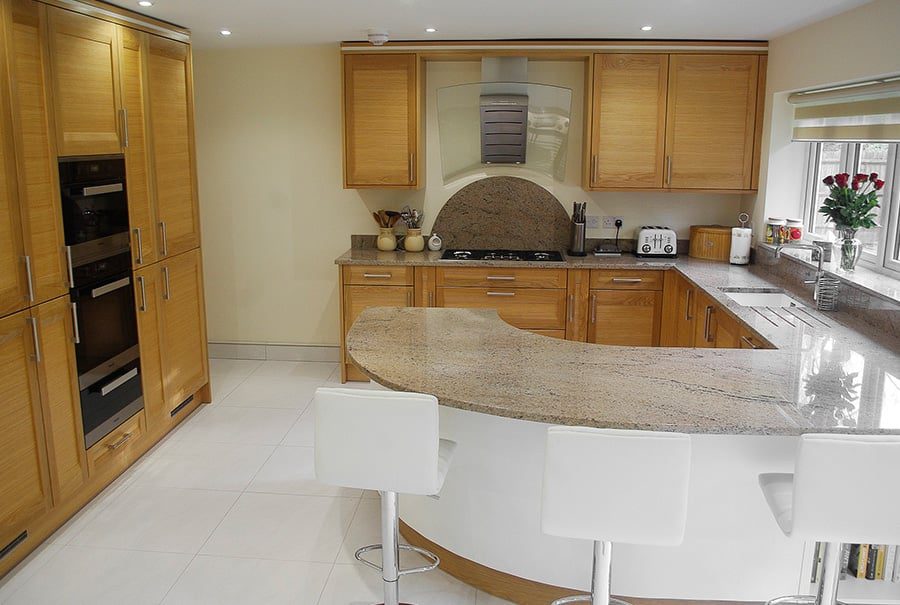 Islands with integrated tables
If you can't decide whether or not to have a kitchen island or table, the perfect compromise is to have both! Having a high table at the end of the island not only gives friends and family a chance to sit and chat as you cook, but also provides you with extra worktop space. Alternatively, drop the height of the table top so you can sit on chairs rather than stools, while keeping the table as an integrated two-level design. Or get even more creative and play with shapes and incorporate a round table with a rectangular or square island.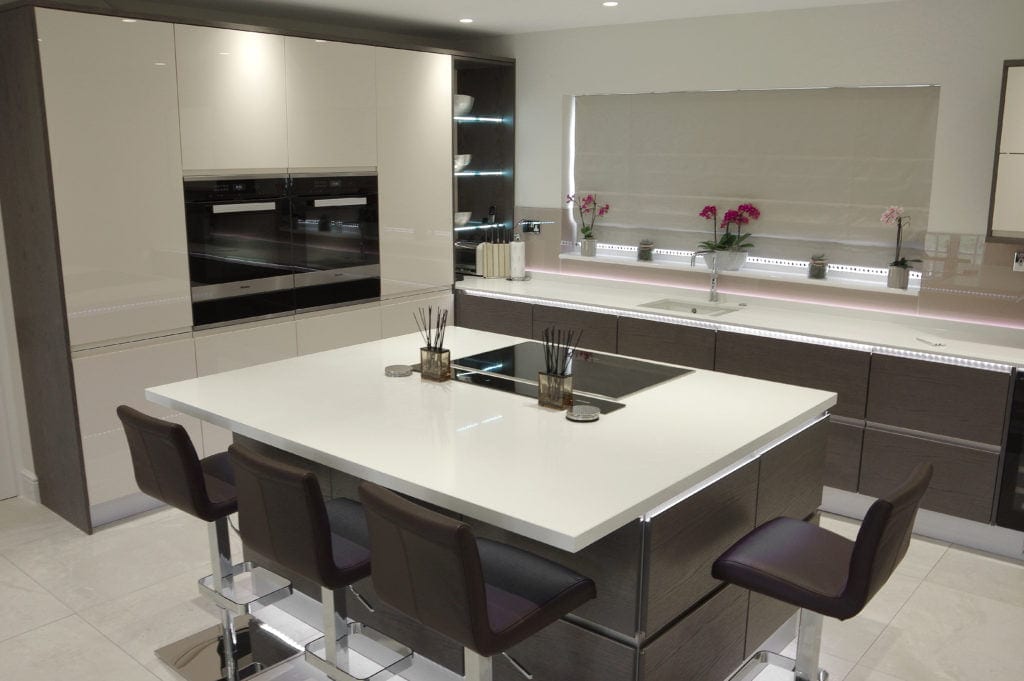 A central cooking area
Having a hob integrated into your kitchen island will allow you to work efficiently without being too far away from the sink or the fridge. The sink, fridge and cooker are the most important elements in kitchen design as they are the things you use most often when cooking. This is why they form the different corners of the 'kitchen triangle', which is the optimum working area.
In a large kitchen, the danger is that the space could make the art of cooking less easy and you'll end up spending too much time simply walking from the fridge to the cooker and the cooker to the sink. A cooking island can really help with the most ergonomic working area. And if you're worried about the need to install a large extraction hood in the middle of the room, investigate the new luxury hobs that have integrated extractor fans, the leader in this field being the BORA, which you can find in our showroom, so you don't need to break up the space above your head.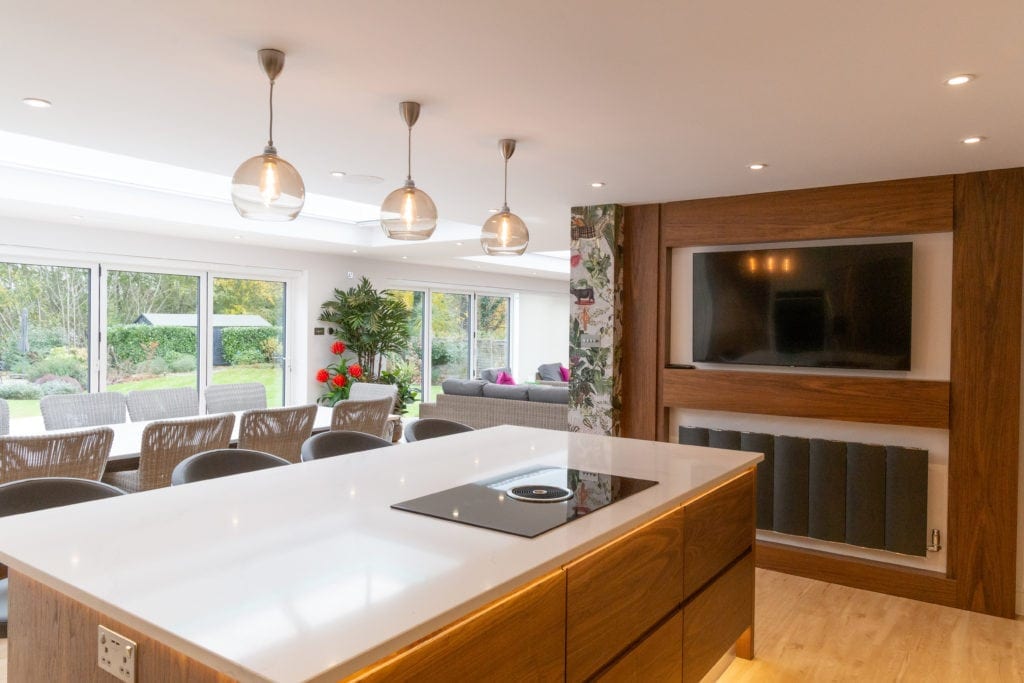 Minimalism
Minimalism is one of interior design's enduring trends and a kitchen island can help with the functionality of the kitchen at the same time as keeping it uncluttered and visually clean. The island can provide you with much needed extra storage, so you can keep all your gadgets and equipment out of sight until you need them. Keep the colour scheme as simple as possible, and handleless unit doors and drawers will add to the effectiveness of the look, which will also make the room appear larger.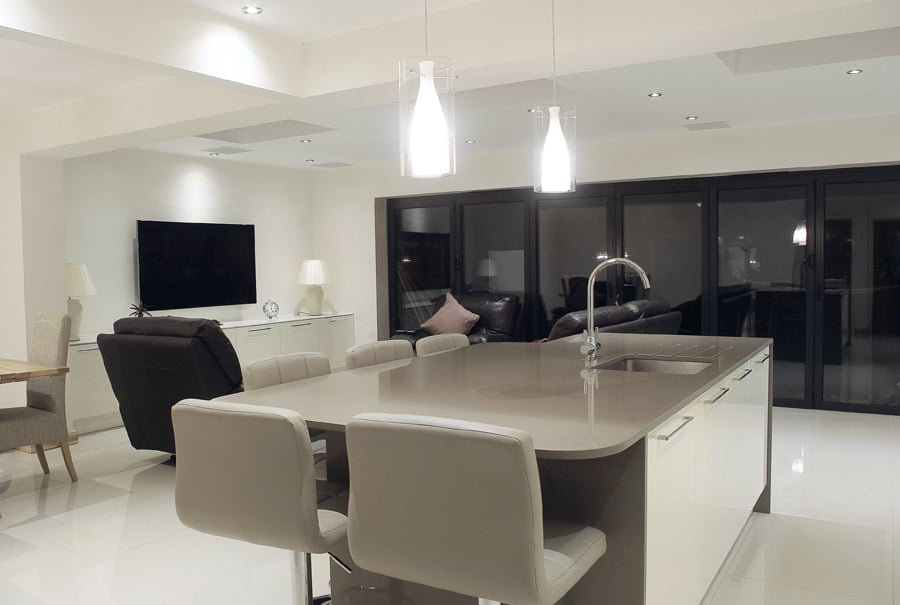 Double island
If you have a large kitchen, then a double island is set to be a big trend in 2021 to help you show it off to its best effect! A true measure of luxury, a double island will increase the amount of workspace and give your family and friends somewhere to sit and chat with you. It will also prove to be a great talking point, once we are able to socialise in each other's homes again. We've all been dreaming of being able to host parties again, and a double island will allow you (or your caterers) to prepare sumptuous feasts for even more people – the more the merrier.