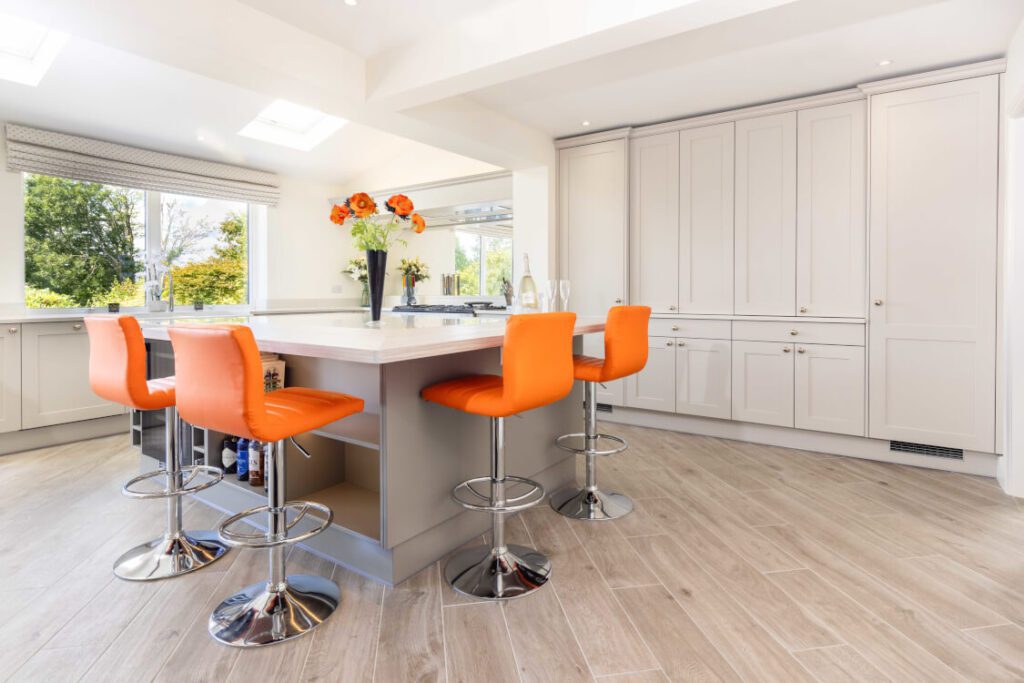 When you're planning a kitchen extension, there are a huge number of factors that need to be taken into consideration, but the result will always be worth the effort. Kitchen extensions are a great way to utilise more space in your home. Your kitchen is at the heart of the home, so it's really important to get everything right in order to create a space that family and friends will love being in. In this blog we'll look at the main factors you'll need to consider when planning your new kitchen extension.
If you are looking for kitchen extension ideas
Call Us On: 01992 623066 | Visit Our Kitchen Showroom in Hertfordshire | Download our Kitchen Brochure
Design and layout of your extension
There are a number of design elements you need to consider when planning a kitchen extension in order to create a practical space as well as a beautiful room. How you plan to use the new spaces needs to be taken into account – for example, if your extension is purely to create a dedicated kitchen space or if the kitchen will be part of open-plan living that needs to include living and dining areas as part of the interior layout.
The majority of our clients want to incorporate a kitchen island into their new extension. How large your kitchen island is will depend upon the amount of space available – for it to work as a practical area and seating space, you need to allow a gap of at least one metre all the way around it.
When planning the design and layout of your new kitchen extension, the skills of a professional kitchen designer can be invaluable. Our kitchen designers will work alongside you, your architect and your builder on your kitchen extension project, using their professional experience and up-to-date product knowledge to make sure you get the working space and equipment that will suit your lifestyle.
Planning permission and building regulations
A kitchen extension is classified as a major change to your building, and you will therefore need planning permission. Check the website of your district or borough council for more information about making a planning application in your area.
Any building work you do on your home will require building regulations approval to ensure that minimum design and construction standards have been adhered to. Check the building regulations page on the government's website for information on the types of work covered by the regulations.
Premium kitchen specialists
We specialise in designing and installing luxury kitchens and kitchen extensions. We understand what it takes to create highly desirable kitchens that are as practical to work in as they are stunning to look at. As part of our premium service, we would be happy to take the stress off your shoulders and project manage your new kitchen extension design, build and installation from start to finish. Book an initial consultation with one of our kitchen experts at our Cheshunt showroom and we will help you create a dream kitchen that's perfect for family life.