Planning a new kitchen
Are you looking at your current kitchen and thinking that maybe it's time for a change? Christmas is an exciting time of year for anyone who loves cooking, and Christmas Day is probably your biggest cooking challenge of the year. Even if you're just entertaining the immediate family, there's always a lot to do. So if you're cooking for the extended family and possibly friends too, you've got a massive task on your hands. If your current kitchen is making the task of producing Christmas dinner more difficult, then now's the time to start planning a new kitchen for Christmas 2023! 
To know more about how much a new kitchen costs or new kitchen ideas
01992623066 | Download Our Brochure | Visit Our Showroom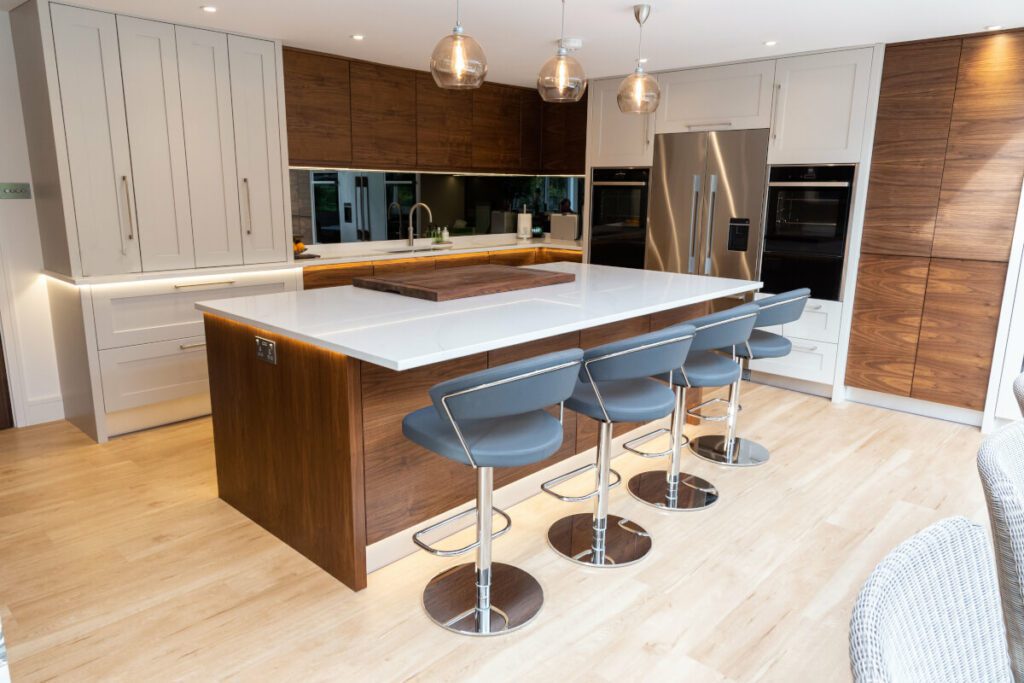 Planning a new kitchen require patience
It doesn't matter how big your budget, a bespoke kitchen is a huge investment, and not just in terms of money. You will need to think carefully about every aspect of your kitchen design process – our high-quality kitchens are built to last, so you will be living with your kitchen for years, possibly even decades. The more time you take now to plan something you'll love that long the better.
The installation work will also be hugely disruptive, especially if you're also having building work done, for example, if you opt for a kitchen extension or other home renovations. If you're planning a cosy Christmas at home in 2023, then you need to be certain that all the work, including factoring in any possible delays, will be over and done with in plenty of time. Rushing around doing last-minute work on home and garden renovation projects may make exciting television shows, but in real life, it's far too stressful, and not at all the Dobsons way!
As every good cook knows, you need time to get used to a new kitchen. You don't want to have to cook the most important meal of the year while you're getting used to the new layout, not to mention using an unfamiliar cooker. New appliances always take time to get used to, so you need to allow for lots of time to practise to ensure there are no burnt offerings or mistimings between the turkey and the sprouts!
So yes, you may currently be thinking that it's far too early to be planning next Christmas, but in reality, the sooner you start, the better.
How Dobsons can help you create your dream kitchen in plenty of time for next Christmas!
Bespoke kitchens are our speciality. We have an award-winning team of kitchen designers who are dedicated to the luxury kitchen market and an in-house team of installers who understand the need for exceptional craftsmanship as well as customer service excellence.
We will be more than happy to advise you on any and every aspect of your new bespoke kitchen design, from your initial inspiration to the smallest detail. We will go through everything you need, from cabinets, worktops and flooring to paint colours, wallpapers and all the little decorative details that complement your new kitchen and your home. We will project manage the entire installation process for you from start to finish. You will only have one point of contact as we will deal with all the suppliers, builders, plumbers and electricians, as well as our own kitchen installers, ensuring everything comes together on time and within budget.  
Want to know what we can do for you? Have a look at our portfolio featuring the luxury kitchens we've created recently, then read our five-star reviews on Trustpilot. After that, make an appointment to discuss your kitchen with one of our award-winning designers at our Cheshunt showroom. They'll be able to show you working examples of our bespoke kitchens to give you a good idea of what's possible in your own home. They'll talk to you about the appliances you want and the appliances you'll need. And the sooner you begin the process, the more likely it is you'll be cooking your 2023 Christmas dinner in your spectacular new luxury kitchen.