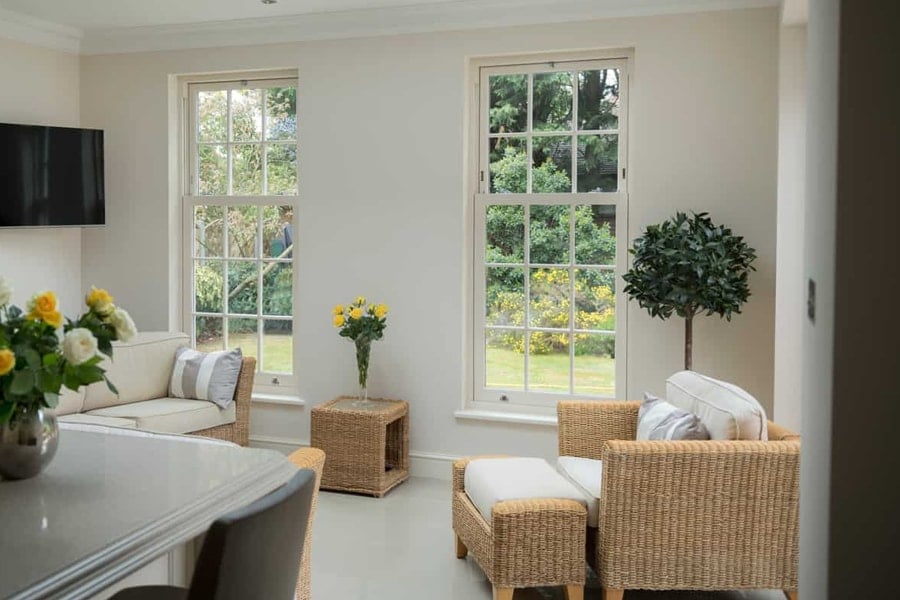 How Much Maintenance Do
Timber Windows Really Need?
The Concerns of Timber Window Maintenance
One of the great concerns many homeowners have when they consider purchasing timber windows is the amount of maintenance that will be required to keep them looking their best over the ensuing years, not to mention the costs that come along with the process. Although that may be true in many cases, not all timber windows are made equal, and choosing the right manufacturer, one who specialises in timber window repairs, can make all the difference.
Advantages of Factory-Finished Timber Windows
Factory-finished timber window frames hold many distinct advantages over those that are finished on-site. For example, our preferred timber window manufacturer, George Barnsdale, has optimised a process in which every detail of the window is given the care and attention needed to ensure that their beautiful, high-performance timber window frames are also a low-maintenance option.
The Careful Process of Timber Window Preparation
Key parts of this process, including the extensive preparation and sealing that goes into the windows, curved edges on the corners to ensure the paint does not erode quickly, and an advanced four-stage micro-porous coating to protect the timber, are essential for preserving the timber's longevity. The process takes place in a carefully controlled environment to keep the right levels of moisture in the timber throughout and is also subject to rigorous checks between coats. In case of any issues, timber window repairs are carried out meticulously to maintain the window's integrity.
Guaranteed Quality: 10-Year Paint Warranty
Such is their confidence in the quality and durability of the final product, our timber windows come with a ten year manufacturers guarantee on the paint finishes, ensuring against flaking or cracking. The lifespan of the finish should far exceed that with just a limited input from the homeowner to ensure the windows are cleaned regularly, the complimentary care set is applied annually and any noticeable damage is taken care of according to their remedial instructions. So, no annual paint job then.
Effortless Timber Window Maintenance
Should your windows need a recoat one day, only necessary due to loss of sheen or colour, then the process is thankfully a relatively simple one; a light sand and wipe down and two coats of paint. George Barnsdale should also be able to provide the paints to match.
Dobsons: Your Partner in Timber Window Replacement
At Dobsons, we undertake the entire process of replacing your tired timber windows, starting with design and quotation, through to a thoroughly professional project-managed installation by our own directly employed and long-serving fitting team. This ensures that the beautiful and low-maintenance wooden window frame replacement is done with the care and attention to detail that they merit.