2020 is an exciting year for kitchen buyers. There has never been so much choice and sometimes it can be baffling if you are considering a new kitchen. So here is a quick guide to what you can expect to see in magazines, homes and in kitchen retailers. It only brushes the surface of what is out there but we hope it inspires you as much as it inspires us.
If you would like to discuss kitchen trends with our kitchen specialists
Call Us On: 01992 623066 | Visit Our Kitchen Showroom in Hertfordshire | Download Our Kitchen Brochure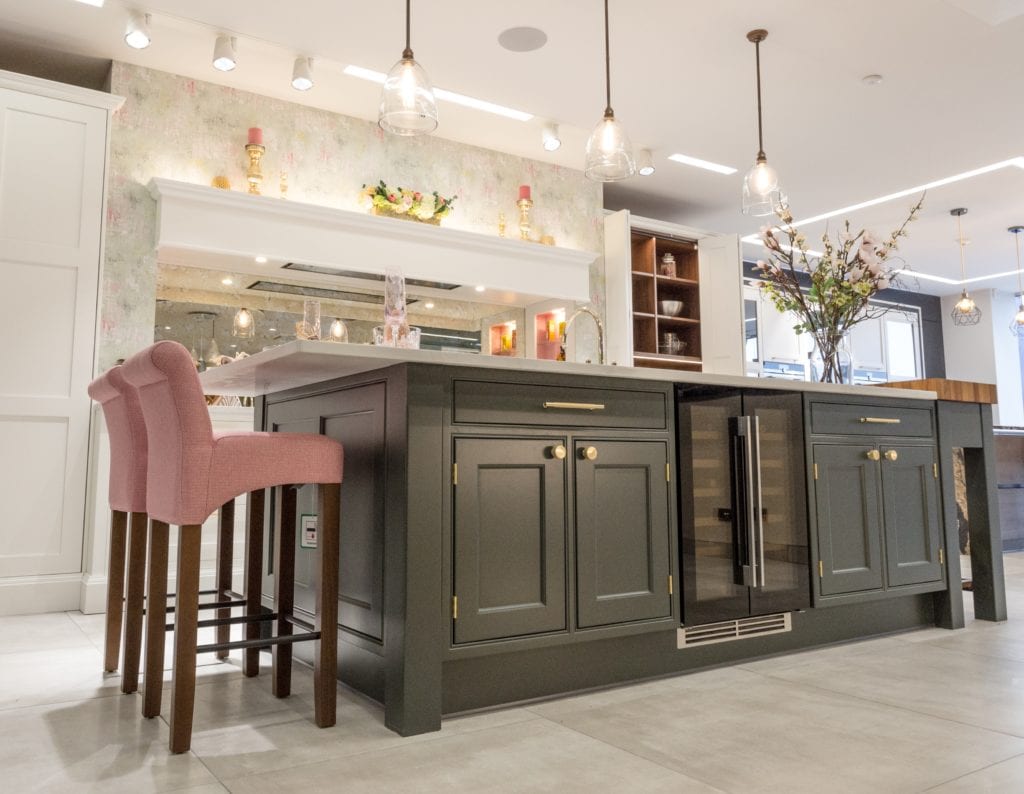 Bold colour choices
We have been used to seeing dark blues and greys in kitchen designs for quite some time, and while these kitchen trends continue to be very popular, you can expect to see the colour palette widen to include all shades of green, aubergines, purples, and teals. In fact, no colour will be out of bounds in the ever-evolving world of kitchen trends.
If this is a step too far for you, consider adding a splash of colour to your kitchen with bold accessories and furnishings. Those of us lucky enough to enjoy a kitchen large enough to fit a kitchen island are even considering using different colours for the main kitchen and the island, reflecting the latest kitchen trends.
Whilst different shades of the same colour are popular, the more adventurous are making a bold statement with eye catching results. Instead of featuring an island in an alternative colour, consider blocks of colour, maybe a bank of tall cupboards in one colour with base cupboards and wall cupboards in complimentary colours.
This may be a lot of colour for those amongst us who prefer a calmer palette but you can rein the look in by using one vibrant colour and choosing more subtle colours elsewhere. Another popular trend will be to combine a strong colour with a natural wood grains or stone effect cupboards.
Worktops
Whilst quartz worktops are still a popular choice natural stones are enjoying a bit of a come-back this year. There are some lovely granite and quartzite to be found at the moment with lighter colours proving more popular.
Marble is always sought after but generally it is not advised for kitchen use as it is a very porous material and is prone to scratching, crazing and staining. Luckily there are many quartz worktops that have been developed to look like natural marble but will resist stains and scratches.
Alternatively ultra-thin worktops are a big story in kitchens, especially contemporary and handless designs. For a really sleek look some worktops available are only 12mm thick, check out Decton and Corian, or compact laminates.
Patterned Floors & Splashbacks
In 2020, kitchen trends are evolving to embrace more creative elements. Adding colour and interest with a patterned floor is going to be very popular. With influences coming from all areas, including Middle Eastern and Scandi designs, you can be as bold as you dare with ceramic tiles, laminate flooring, or even vinyl, following the latest kitchen trends.
After years in the wilderness, tiled splashbacks are making a comeback, aligning with the resurgence in kitchen trends. Geometric patterns work well with contemporary designs, and there are some very exciting floral patterns that complement classic kitchens. If tiles are really not your thing, then consider a patterned glass or even a patterned laminate splashback to stay on-trend with your kitchen design.
Statement Walls & Ceilings
Whilst many people worry about the practical aspects of wallpaper in a kitchen, it is growing in popularity because for many people the kitchen is one of the most important rooms in the house. Give your walls a bit of TLC with wall paper, bright paint work, mirror or possibly consider panelling and cladding. The ceiling has become the fifth wall so consider a different paint colour, and elaborate cornice or clever up- lighting.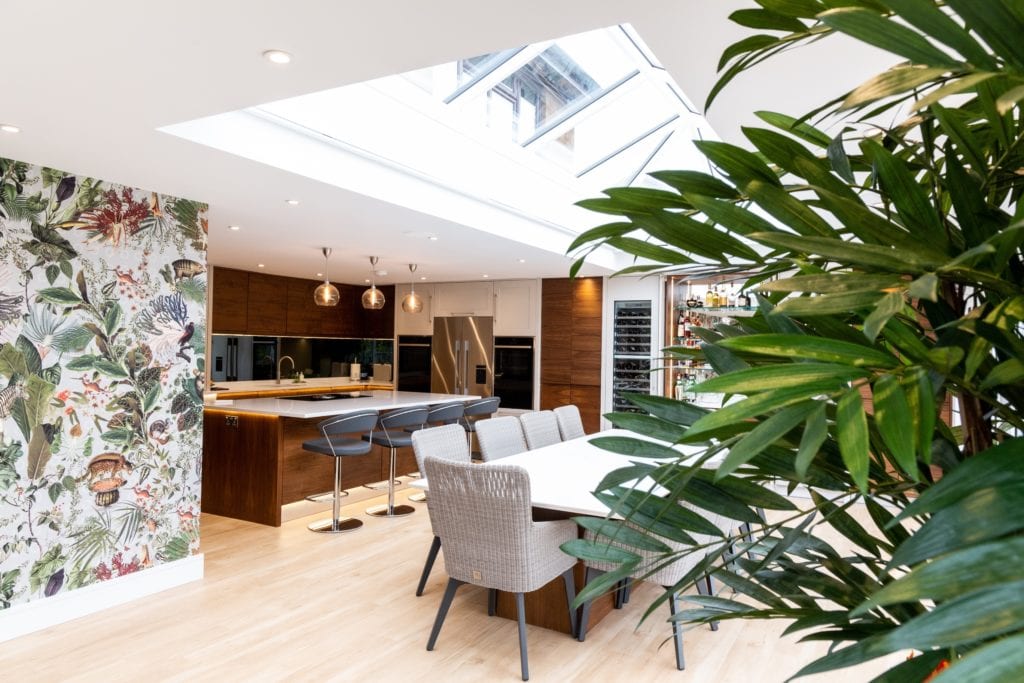 Feature lighting
Adding feature lighting to your kitchen design is a great way to put a little sparkle into your kitchen. We are all used to seeing a cluster of pendant lights over an island or table, it is a tried and tested standard but consider wall lights or even pendant lighting over your kitchen counters. As well as providing excellent task lighting it will be a talking point that can really inject some individuality into your kitchen.
Light woods
Out of fashion for quite a while light woods such as Ash or Oak will be seen in new kitchens in the coming months. Whilst most prefer a coloured kitchen cabinet, wood is being used in seating areas, on worktops or to "frame" kitchen cupboards.
Open shelving
More and more designs are now wall cupboard free zones with open shelving becoming more popular to give an unfitted more casual look. This look shown at it's best with free standing shelves in different textures and materials. Particularly popular at the moment is rustic wooden or industrial looking metal shelves. It is also a useful way to add storage to difficult corners or any niches (for example where a window or door has been removed) that are too narrow to fit in a wall cupboard.
Larders
Always a popular feature in kitchen designs, the modern kitchen larder is becoming flexible than ever in 2020. All but the very smallest kitchens can accommodate some sort of larder but there has never been so much choice in design and functionality. From slim-line pull out storage racks to multi-tasking cupboards that allow you to use your kitchen appliances in situ there is a larder solution for every room.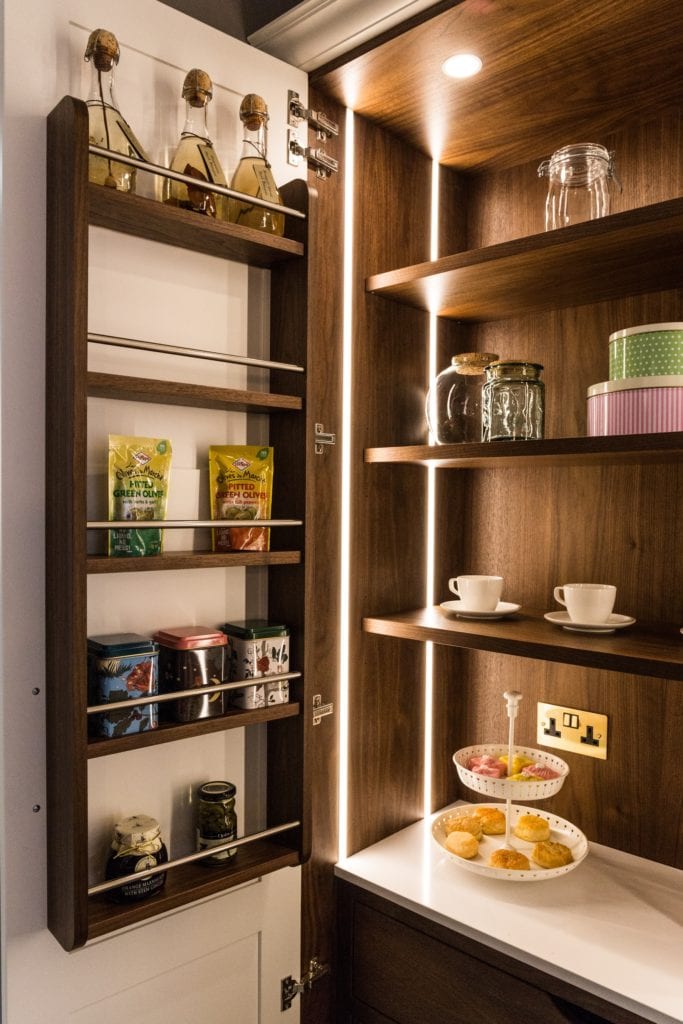 In conclusion 2020 is going to be a very exciting year to design a new kitchen, and with so much choice there is bound to be a kitchen for everyone. Bear in mind that commissioning a kitchen is a large and very personal investment.
In the last few years we at Dobsons have combined handless with shaker styles, blended laminate finishes with glass and wood and even concrete finishes with amazing results. We have championed the use of alternative and sustainable materials and celebrated the best of British design and craftsmanship.
We are looking forward to discovering new kitchen trends as the year unfolds and look forward to you taking the journey with us.
Call Us On: 01992 623066 | Visit our kitchen showroom | Download our brochure