Designing a brand new kitchen is a huge job with many different elements that all need to be brought together harmoniously. A new kitchen is a big investment and a professional kitchen designer will not only help you make the best use of the space, it may also save you money in the future by making sure everything is thought through at the design stage and before installation.
If you would like to speak to our kitchen designer
Call Us On: 01992 623066 | Visit Our Kitchen Showroom | Download our kitchen brochure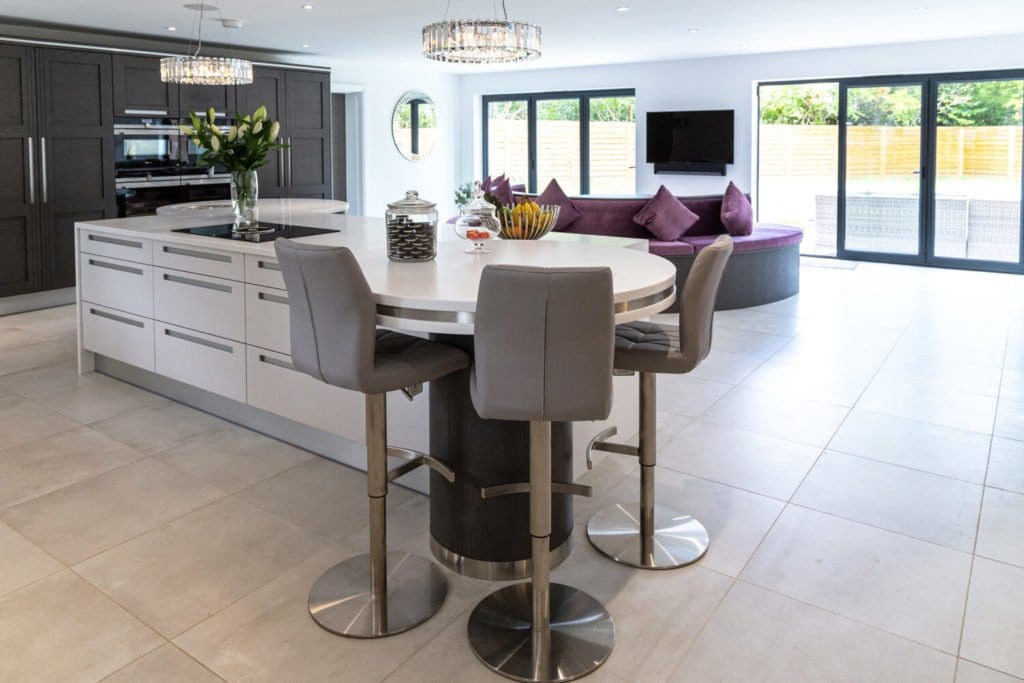 Making your kitchen ergonomic
Kitchen design isn't just about making your kitchen look good – although the wow factor is obviously a huge part of it! It is also about how you're intending to use your new kitchen. If you're an avid cook with ambitions to appear on the Great British Bake Off, you're clearly going to need a practical kitchen in which to experiment. However, if your version of cooking involves mostly microwaving ready meals, then the look of the room is likely to be much more important than how you use it.
The design will also vary according to how much you use the kitchen for socialising. For some, the kitchen table is the centre of family life, as well as being the place where friends gravitate when they visit. For other households, the kitchen is a room where the kettle is boiled and food is prepared and that's about it.
One of the most important things a skilled and experienced kitchen designer will do is to ask you questions about how you're going to use your new kitchen in order to make it work ergonomically. They will design a kitchen for you that has an efficient workflow as well as creating a room that is a joy to be in.
Specialist product knowledge
An experienced kitchen designer will have developed a vast amount of product knowledge over the years. Our own designers fully understand the capabilities of our furniture brand Stoneham kitchens and what can be achieved. Not only do they understand how the units work together in harmony, they'll also know about all the unique and bespoke features that will enhance your kitchen still further. Their experience is not just limited to furniture, they'll also advise you about different worktop types, suitable flooring, which appliance brand is right for you, and advise on many other things that will ensure your new kitchen has everything you need.
Your kitchen designer will also be happy to work alongside your architect and interior designer, using their specialist knowledge to ensure it will fit in with the overall design at the same time as being functional and efficient.
Keeping to your budget
The first thing a good kitchen designer will ask is what your budget is. They will be able to advise you if this is appropriate for your needs so you can adjust your budget or your plans accordingly. They understand all the work that goes into building a new kitchen and will know to include the jobs you won't have thought about in order to ensure that the final cost is within your budget. A new kitchen is something you only need to do once or twice in a lifetime, so with the best will in the world, if you decide to do without a kitchen designer, you could end up going over budget because of your inexperience.
If you're investing in a new kitchen, don't cut corners. By employing people who are skilled and experienced at what they do, you'll end up with a stunning new kitchen that you'll be really proud of.