If you're thinking about replacing your bathroom this year, it will be useful to look at the latest luxury bathroom trends.
As any luxury bathroom is built to last, it's probably a few years since you last renovated yours, so you may be surprised by what you can now achieve.
Technologies and materials have improved massively, giving you greater choices when it comes to the types of technology, features and styles you can integrate into your new luxury bathroom. And sustainability is, of course, of growing importance.
What are the latest trends in bathrooms?
Here are some of the main luxury bathroom trends to look out for in 2023. You would also be very welcome to make an appointment to visit our newly updated luxury bathroom displays in our Cheshunt showroom, as well as talk to our award-winning bathroom designer.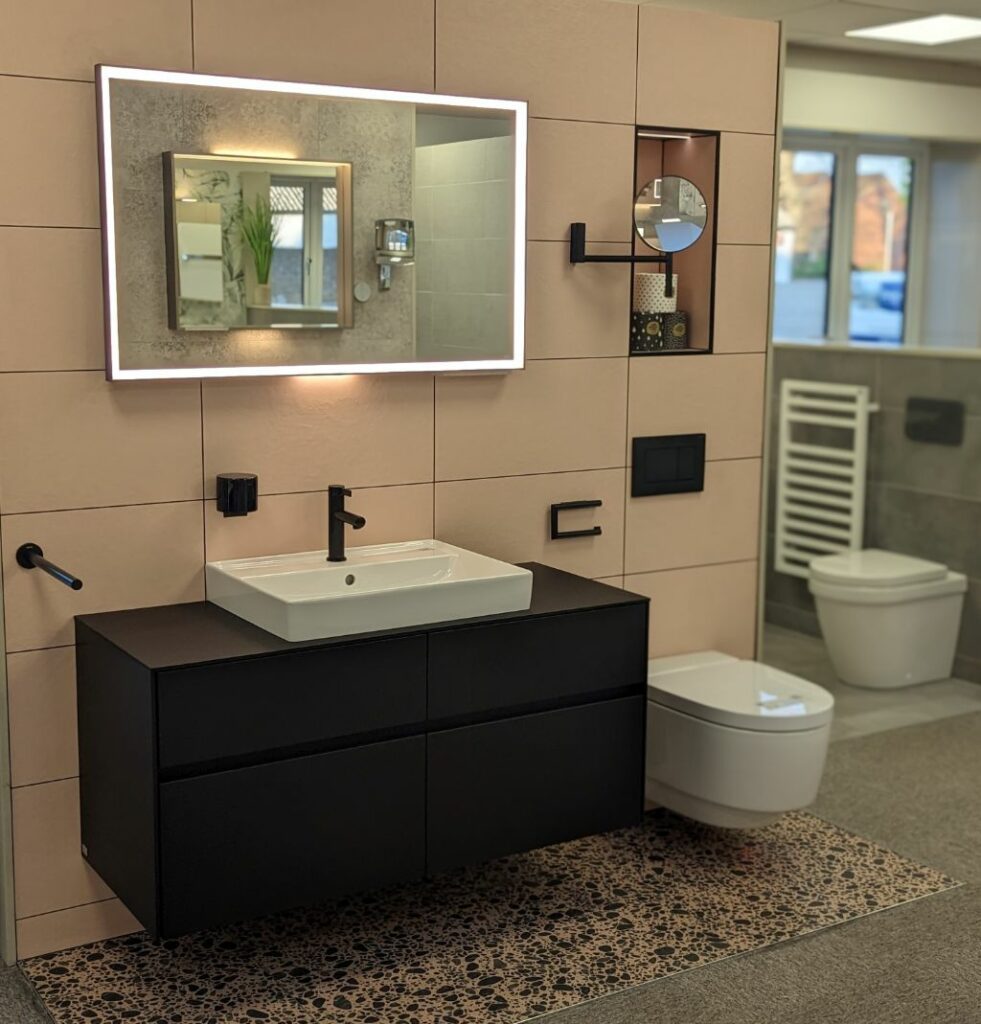 Smart bathrooms
Smart bathroom technology can make a huge difference to your luxury bathroom. It's designed to be used in steamy rooms, so you don't need to worry about dampness, and it can really make a difference to the way you use the room.
For example, you can fit recessed steam-proof LED lights with integrated speakers so you'll always have statement lighting and something to sing along to in the shower. Bluetooth LED mirrors will add to your immersive sound experience, and they look amazing too.
Bidets became hugely popular in the second half of the 20th century and were installed in thousands of houses. While they're great for high hygiene standards, separate bidets were inconvenient, so most sat largely unused and were eventually removed.
However, smart technology has enabled manufacturers to produce combined toilets and bidets that are very easy to use and extremely effective at keeping you nice and clean. You'll never have to worry about running out of toilet paper, and given that its wash uses less than a litre of water and a toilet roll takes more than 160 litres to produce, you'll be contributing to water sustainability. Which brings us onto new luxury bathroom trends that make the most of water-saving technology.
Water-saving bathroom technology
The effects of climate change mean that the UK will experience hotter, drier summers. It's estimated there will be a 15% reduction in rainfall in England by the 2050s, and the Environment Agency has warned there is a very real possibility we will experience times when UK water demand outstrips supply.
To avert this possibility, we need to do as much as we can to save water now in order to protect supplies in the future. There has therefore been a huge interest in water-saving bathroom technologies in recent years.
Smart baths and showers have been designed to use as little water as possible without stopping you enjoying the experience. Digital technology for the shower will enable you to program the specific length of time you want to shower at the same time as ensuring you have the perfect water temperature.
And with the temperature pre-programmed, you'll no longer have to waste water getting it right every time you have a shower.
Japandi
'Japandi' is a fusion of the best of Japanese and Scandinavian minimalism. In terms of luxury bathroom design, it gives a clean, minimalist look that incorporates as many natural elements as possible.
Natural finishes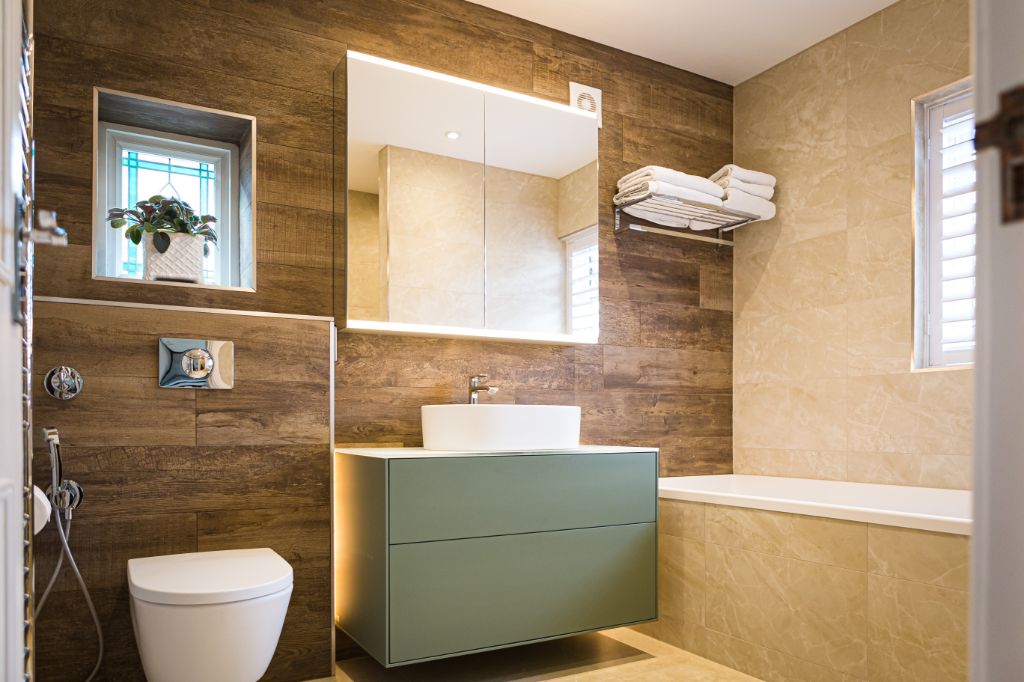 Natural finishes are another growing trend, but as you'd expect, wood isn't the best material to use in a steamy bathroom. If you're determined to have natural wood, then opt for bamboo because it's less affected by moisture than traditional UK woods.
However, many people are incorporating the natural look by opting for faux finishes on their bathroom tiling. Advances in technology have enabled tiling manufacturers to use photography to decorate porcelain tiles with wood patterns that are of such exceptional quality, they look like the real thing. So you get all the advantages of porcelain tiling in your luxury bathroom, as well as all the visual interest of real wood.
Terrazzo tiles
The original Terrazzo tile would normally be made using offcuts or broken pieces of marble and granite chips and mixed with a binding agent, often concrete. When cut to size and polished to a smooth surface, these tiles are incredibly durable and can be made into an infinite number of colours by adding dyes. More recently, digital imaging allows manufacturers to recreate the Terrazzo look and print it onto porcelain tiles with no loss of durability, beauty or colour variety, making them a more affordable option.
Geometric tiles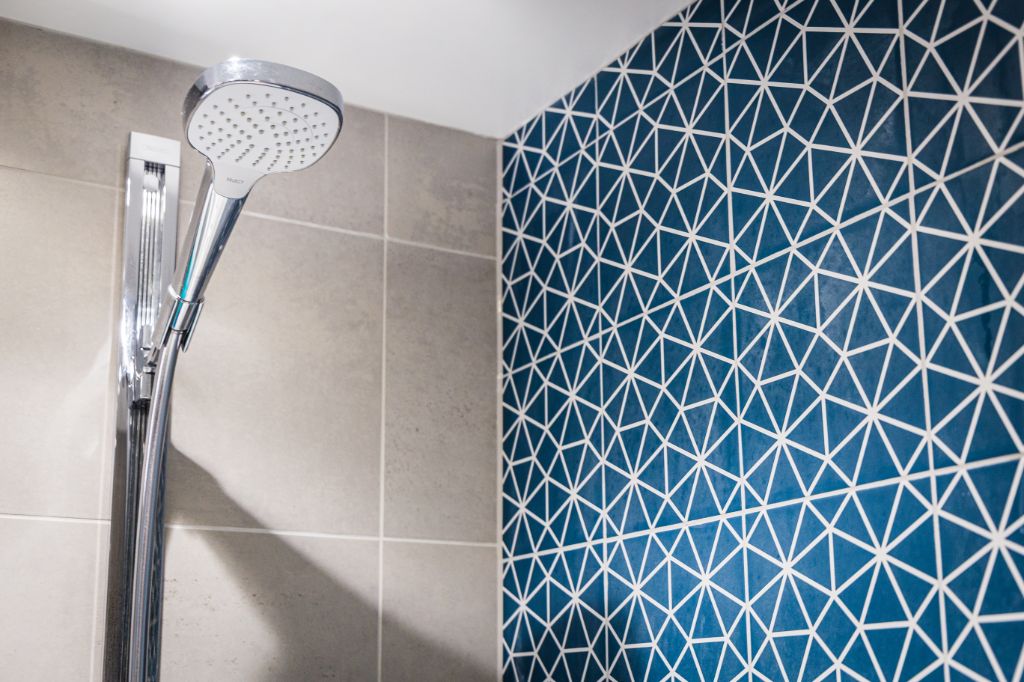 The popularity of geometric tiles continues to grow. Whether you're trying to create a traditional or modern feel to your bathroom, making a feature wall or floor covering, the clever use of geometric shapes can add depth and personality. Little wonder they're bang on trend.

If you're planning a new bathroom, shower room, wet room or ensuite, or need to look at bathroom designs as part of your home renovation, request a brochure or book an appointment to visit our North London bathroom showroom.
Call Us On: 01992 623066 | Visit Our Bathroom Showroom | Download our bathroom brochure