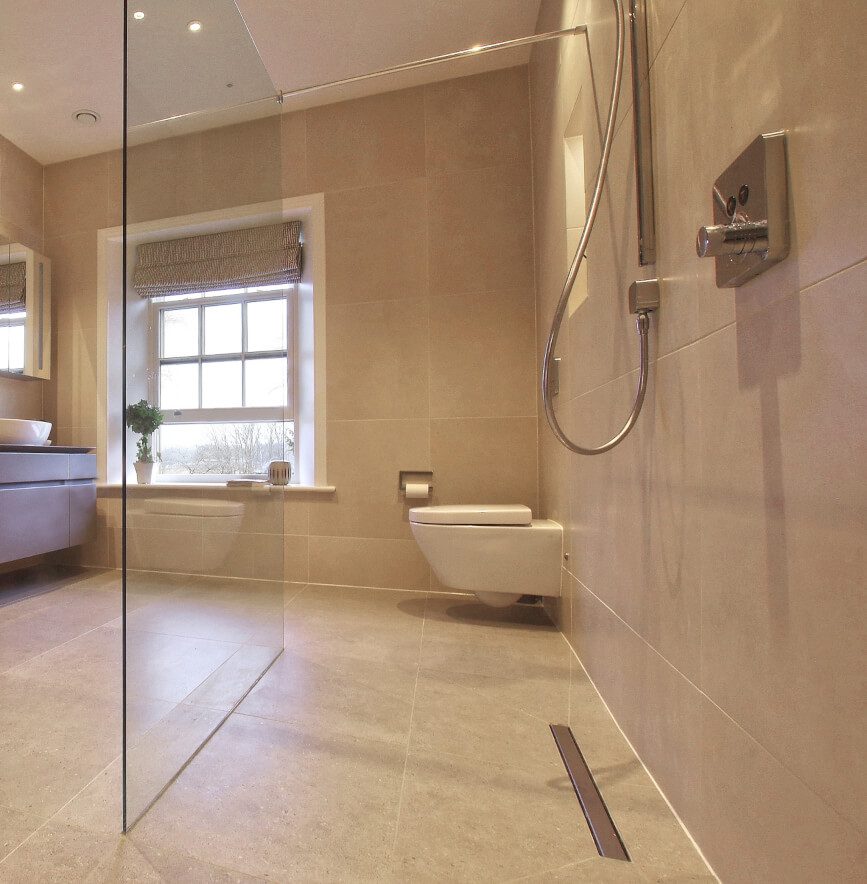 We are being asked more and more about the installation of wet rooms. Luxury wet rooms are modern, elegant spaces that have become increasingly popular over recent years. It's not difficult to see why. 
What is a wet room?
A wet room is a fully waterproof bathroom. The shower area is on the same level as the rest of the floor, with the drainage outlet set into the floor. This means there's no need for a shower tray, so the entire bathroom floor is at the same level. And as the entire room has been waterproofed, there is no need to enclose the shower area, which means you've got more space to shower in. 
How do you waterproof a wet room?
There is additional preparation needed for the installation of a wet room because the flooring and all the walls in the room need to be completely sealed by a waterproof membrane. This means the cost of installation is greater than that of a traditional bathroom, but it's worth it for such a luxurious and spacious room. 
Wet rooms look amazing
A luxury wet room can add an entirely new dimension to your lifestyle. There's no doubt about it, wet rooms are ultra-stylish, contemporary looking, and highly desirable, and it's no surprise that such a stunning room is likely to add value to your property. With no need for a shower tray or enclosure, they have a clean, minimal look, allowing you to open up the space, and overall the room will be less cluttered and will therefore look so much larger. Some people will install a glass shower screen either for aesthetic value or to prevent splashing (especially if there's also a toilet and sink in the room), but this is a personal choice.
Wet rooms are inclusive
Wet rooms have become so popular because they're hugely practical at the same time as looking great. However, they have the additional benefit of being easy to use, which is helpful for people with mobility problems. With no steps to negotiate in the shower area and slip-resistant flooring, wet rooms offer the elderly or those with disabilities a much safer environment. People who need an adapted bathroom often install a wet room, which gives all the flexibility required without compromising on looks, making the room a pleasure to use for everyone.
Wet rooms are perfect for almost any space
Wet rooms are versatile enough to be installed in rooms of virtually any shape or style. This makes them ideal for awkward areas such as loft conversions or en-suite bathrooms.
Cleaning a wet room
As the entire room is waterproof, cleaning becomes a lot easier. With no need to avoid splashing water on certain areas and no nooks and crannies for dirt to accumulate in, it's an easy job to keep it clean.
Luxury wet rooms
If you are planning to install a luxury wet room or bespoke bathroom, download our brochure now or make an appointment to visit our Cheshunt showroom for inspiration and to talk to one of our designers.