Is your New Year's Resolution to get a new kitchen? It's probably been a very long time since you last renovated your kitchen. If that's the case, you might be missing out on the latest kitchen innovations and advancements in kitchen technology. We've asked Sally, one of our kitchen designers, to look at the latest kitchen trends and technology which will help you plan your new kitchen.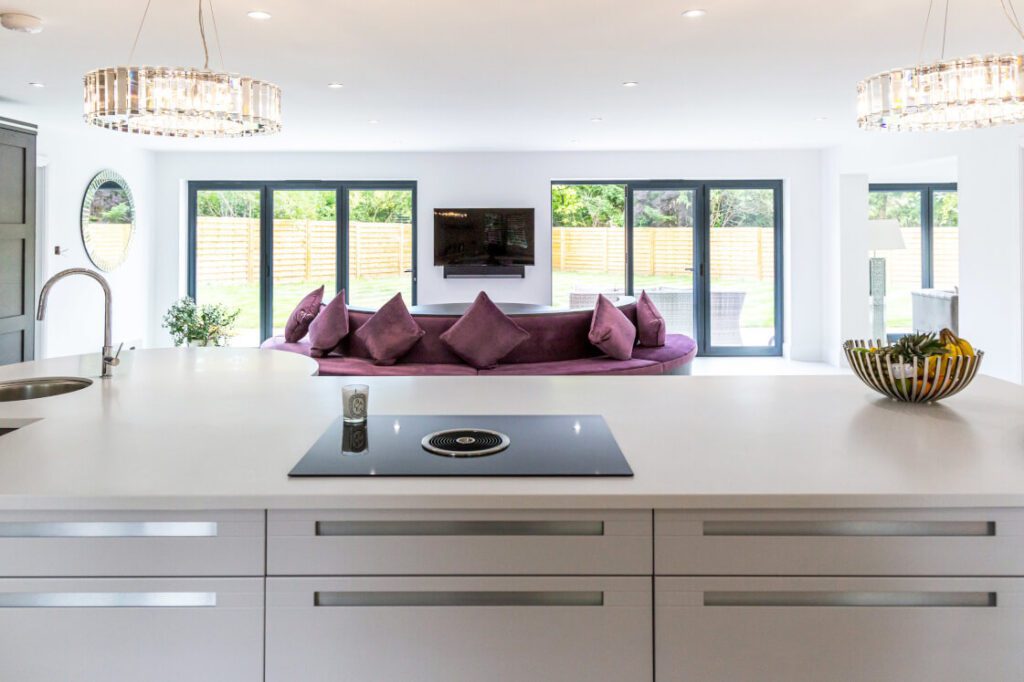 Venting hobs
BORA venting hobs have proved very popular in the last few years. This technology has revolutionised kitchen design because the extraction fan is built into the hob, drawing the steam down from the pans on it. This means you no longer have to have a separate overhead extraction fan. This opens up more possibilities for your kitchen space as it means you can put your hob anywhere in the room – you're no longer tied to having to put the hob in a place where a hood can also be installed.
A lot of our customers like to have their venting hob integrated into their kitchen island. In 2022, Bora's innovation will be a smaller venting hob. At only 60cm in width, it will be much more practical for smaller kitchens.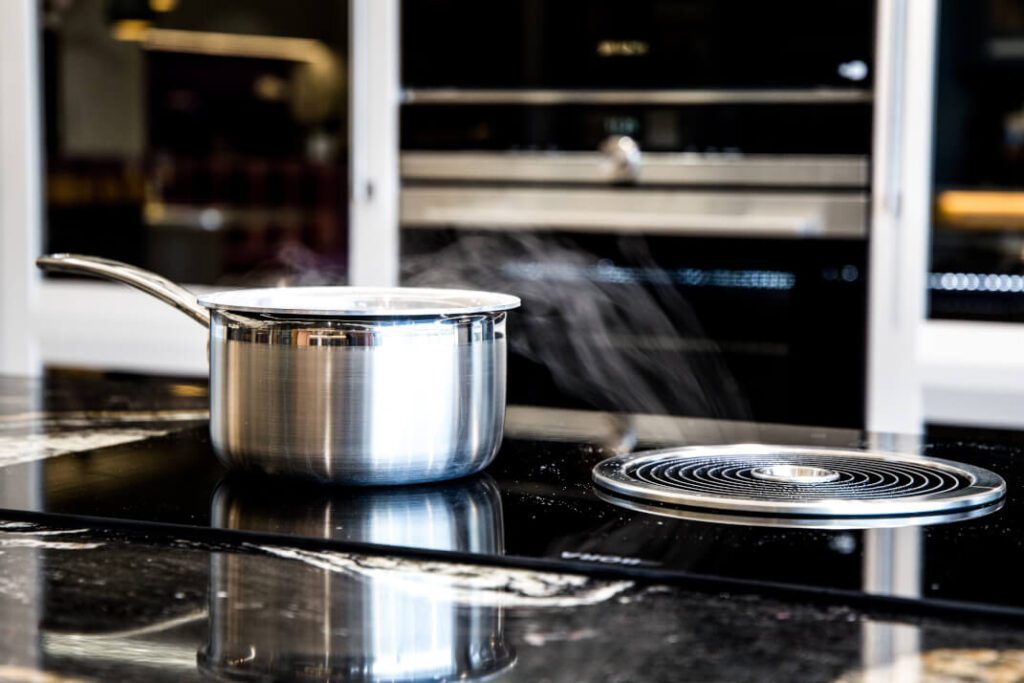 Induction cooking
Advantages of Induction Hobs
These days, the majority of our clients choose induction hobs over gas ones. Induction hobs have a number of advantages.
Easy Cleaning and Energy Efficiency
One significant advantage of induction hobs is their ease of cleaning. With their flat, seamless surface, all you need to do is wipe off any cooking spills or residue.
Moreover, induction hobs are more energy efficient compared to traditional gas hobs. The heat is generated only in the area of the saucepan, minimising heat loss. Additionally, if there is no pan on the hob, it automatically switches off, preventing energy waste by heating nothing.
Enhanced Comfort in Open-Plan Living
Induction hobs also contribute to a more comfortable working environment, especially in open-plan living areas. Since only the pan and its surroundings get heated, the kitchen remains relatively cool. This aspect is particularly important when designing open-plan spaces where comfort is key.
Safety Features of Induction Technology
The main advantage of induction technology is its enhanced safety. In conventional cooking methods, both the hob and the saucepan become dangerously hot to the touch, posing a safety risk.
With an induction hob, however, the pan is heated directly through a magnetic field, while the hob itself remains unaffected by heat. This significantly reduces the risk of burns and accidents associated with traditional hobs.
Consideration for Induction-Compatible Pans
To utilise an induction hob, it is necessary to have pans with a magnetised base. While this may require investing in a new set of pans, it presents an opportunity to treat yourself to an upgraded cookware collection.
By choosing induction hobs, you can enjoy the convenience of easy cleaning, energy efficiency, a comfortable working environment, and enhanced safety in your kitchen.
Boiling water taps
Wouldn't it be lovely to never have to wait for the kettle to boil when you fancy a cuppa? With a boiling tap, you have boiling hot water whenever you need it, and you'll only ever boil what you use, no matter how little. This makes it very energy efficient. And if you're entertaining a lot of people, the boiling tap will produce as much hot water as you need, instantly! No wonder they're becoming more and more popular.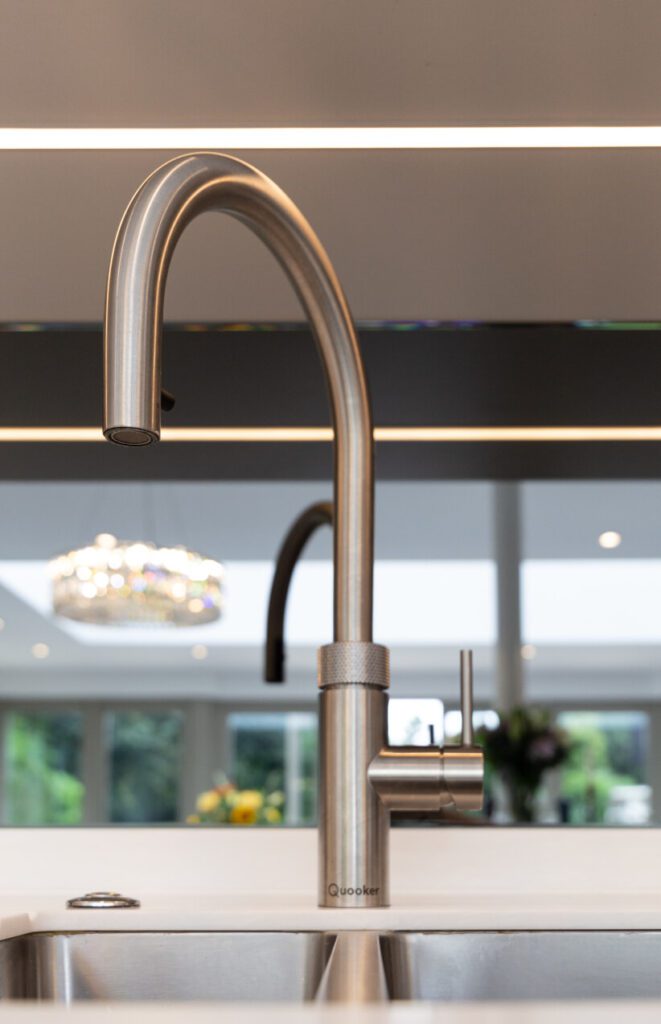 Smart technology
Whether or not you have a smart home, you can buy smart kitchen appliances that you can control from your phone. This means you can turn the oven on as you leave work or check the fridge to see if you need more milk while you're in the supermarket. In reality, not many people use these functions.
However, there is one huge advantage to having kitchen appliances that incorporate smart technology – if something goes wrong, the manufacturer can diagnose the problem remotely. This means you'll no longer have to schedule an engineer to come to the house to investigate, then wait for a part to be delivered if necessary and then wait for the engineer to return at a later date.
With smart technology, the fault can be diagnosed immediately, the part ordered there and then, and the engineer only needs to make one trip, saving everyone a lot of time.
Use of space
Some of these improvements in technology mean your kitchen will be quieter and less hot, and this has contributed to the rise in popularity of open-plan living.". People are designing living spaces that incorporate the kitchen, dining room and living room. This means the person doing the cooking no longer needs to lock themselves away in order to prepare the meal and can continue taking part in family life. It's also great when you're entertaining friends because it gives you the opportunity to talk to everyone while you cook.
Appliance garage
If you're going to make the kitchen an integral part of your living area, you'll have to make more effort to keep it clean and tidy. You won't be able to leave the dishes in the sink overnight any more, and all those lovely kitchen gadgets need to be kept out of sight.
A new trend is to have an appliance garage. This is essentially a very large cupboard where you can store appliances you'd otherwise have to keep on the surfaces, for example, your stand mixer or toaster. This makes it easy to keep your kitchen looking neat and tidy, and you can just take your gadgets out of the cupboard when you need them.

If you would like to see what your new kitchen could look like, make an appointment to visit our showroom and talk to a kitchen designer.