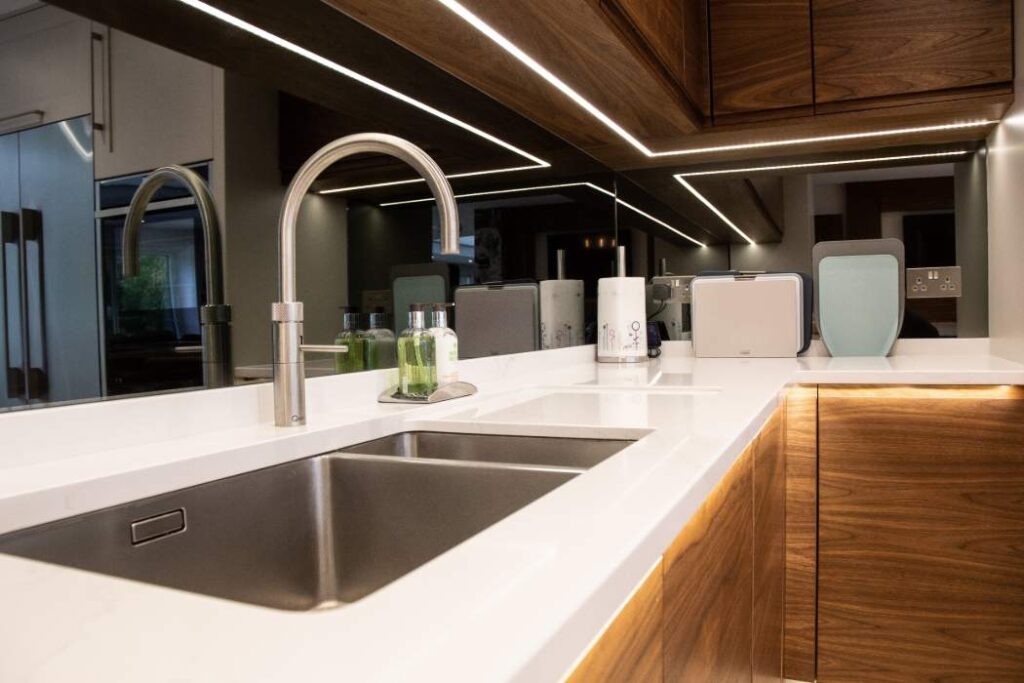 We specialise in installing timelessly beautiful luxury kitchens. We create bespoke, handmade kitchens as a one-off room redesign or as part of home renovations. We have many years' experience designing and installing kitchens, so if you're looking for kitchen design ideas in 2022, we will be able to help. Here are a few ideas to start you off with.
If you are looking for modern kitchen design ideas
01992623066 | Download Our Kitchen Brochure | Visit Our Kitchen Showroom
Classic Kitchen Design Ideas
The classic kitchen design is an enduring favourite. It combines all the advantages of the modern kitchen but has a more traditional look. Classic kitchens tend to be natural looking, using a lot of wood, and they complement any age or style of building. If you're looking for a design style that will always be appealing, the classic look is the one to go for.
Contemporary Kitchen Design Ideas
Contemporary kitchen designs are extremely popular. With clean lines and curves, contemporary designs fit seamlessly into any space. The joy of a contemporary kitchen is that you have so many options to choose from, enabling you to create a design that's uniquely suited to your style and fits in perfectly with your lifestyle. Contemporary kitchens are constructed with a range of materials including glass, metals, veneers and laminates as well as wood. If you are planning an open-plan living space with bifold doors leading directly out into the garden, having a contemporary kitchen design will fit in perfectly. 
Handleless Kitchen Design Ideas
Handleless kitchen designs are also extremely popular. Without handles and knobs on your kitchen doors and drawers, your kitchen will look minimalist, sleek and stunning. Handleless doors and drawers are very low maintenance – it's quicker and easier to keep them clean, and with fingerprint-proof surfaces, they'll always look good. Handleless kitchens will also provide a safer environment for the family, with no sharp edges to bump into. And without handles to focus the eye on, your kitchen will even appear to be larger.
Design features
Once you've chosen your preferred kitchen design, you can think about the design features you can incorporate. These can include:
Kitchen islands – enduringly popular, a kitchen island is a stylish feature that complements any kitchen design. Offering extra storage, additional workspace, and an informal place to sit, a kitchen island is something everyone aspires to when it comes to their kitchen design. A kitchen island doesn't have to be a rectangle or square, so you can add interesting shapes to your room with a curved island or an oval island, or you can simply give your island rounded corners. 
Booth seating – booths are always popular places to sit. They offer a cosy and friendly seating area that's welcoming and appealing. Placed in a corner of your kitchen or positioned against your kitchen island, booth seating looks great as well as being a comfortable area to sit in.
Bar areas – if you love entertaining, having a bar area in your kitchen will add character as well as providing you with a purpose-built cabinet where you can store and display your favourite wines and spirits. Get your friends to pull up a stool and sit at the bar while you prepare a meal. Perfect for informal entertaining and for family chats.
For a better idea about kitchen designs, download our latest kitchen brochure. Alternatively, book an appointment to visit our kitchen showroom and talk to one of our expert designers.