Planning a Kitchen Island can be exciting and while they are very popular, coming up with realistic kitchen island ideas can be hard. They provide extra worktop and storage, room for appliances and make an attractive feature as well as being a social hub. Increasingly, new kitchens are planned along with extensions incorporating cooking, living and dining areas.
Many of us visualize family and friends gathering around a kitchen island to eat, socialise or even work. When planning a kitchen it is rare that a customer's wish list does not include an island and for good reason, they are a multi-function space that if executed properly can enhance any living space, providing a "buffer" between the kitchen and living areas and directing footfall. However, there are a few points that are worth considering when planning kitchen island ideas to create the perfect island for your perfect kitchen.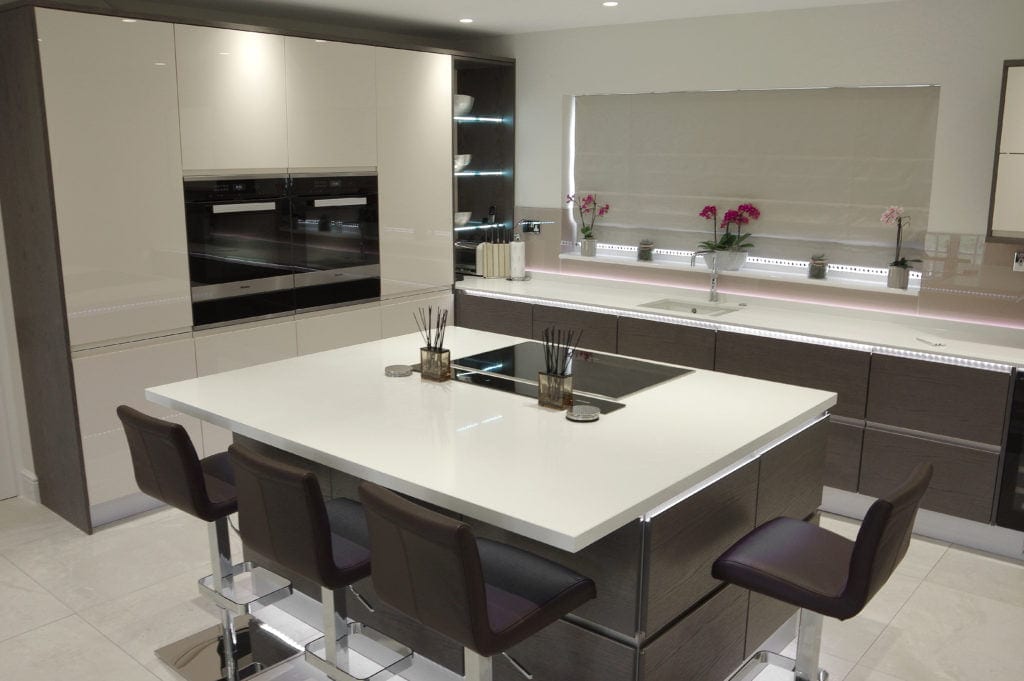 How Much Space Do You Need For A Kitchen Island?
The first question when planning a Kitchen Island is: Do you actually have the space for one? Especially if you want a kitchen island with a sink and dishwasher. An ideal would be a space large enough for one person to be working on the island and a second to walk behind them without touching. Most designers will recommend at least 1 meter between the island and any other cupboards or walls.
This rule is doubly important if there are appliances such as dishwashers, washing machines or under-counter fridges and freezers, or in areas that incorporate seating. In really tight spaces with no appliances or seating then 800mm can be considered but it is worth shaving a little off the depth of the island as a first resort. Another reason having the right kitchen island ideas beforehand is key!

If you don't have space for an island then consider a freestanding butcher's block or workbench. These are useful pieces of furniture as they tend to be narrower than a fixed island and can be moved out of the way if need be. A high table can provide a seating area and extra worktop space, or you could consider a peninsular.
A peninsular is similar to an island but it is attached to the main kitchen on one side leaving three sides free to walk around. Very popular in the 1970's they have been out of fashion for quite a while but are enjoying a bit of a comeback at the moment. They provide continuous worktop space and give you most of the benefits of an island in a space that normally would not allow one.
A fortunate few might have the opposite problem and have a space so large that any size or shape of the Kitchen Island is really not an issue. If you are one of the lucky ones try not to leave too greater a distance between the island and any other kitchen cabinets as often the island worktop provides the set down space for hot dishes coming out of the oven. As a rule of thumb 1200mm is a really comfortable distance, after that and it becomes a little impractical.
The size of your island or peninsular is often dictated by the worktop you choose as you are unlikely to find a single slab of natural stone larger than 2.8 meters x 1.5 meters. Some quartz is available in larger slabs, up to 3.2 meters x 1.6 meters and worktops like Corian can be made any size you wish. If you find yourself in a position where you are considering putting a joint in your worktop to allow for a really big island I urge you to think again.
Joints in island worktops should be avoided at all costs as they tend to be a lot more obvious than joints in other areas so if you are planning a super-sized island consider a seating area in wood or a butcher's block chopping space.
Kitchen Island Ideas To Consider
Another consideration when planning a Kitchen Island is what you want it to do… Are you going to have a sink or hob on your island, is there going to be a seating area (most islands do feature seating). Do you want your island to be at one level or is one area to be higher or lower? Would you like to use different materials (for instance wood) to define a seating area or would you like a clean flat surface?
Think carefully if you want to have any electricity and/or water incorporated into your island, as these services need to be planned for and installed before the floor is laid,  it may be that you are not planning to change your floor finish in which case it is best to make sure you can purchase a few meters of extra flooring to patch in if necessary. It is useful at the very least to be able to plug in a phone or tablet and use small appliances such as hand mixers on your island.
When planning a kitchen Island any hob or sink on the island should have a minimum of 300mm at each side and at the back of the appliance for safety and workspace. It may be that the sink on the island will be your main sink in which case the layout of the cupboards below is very important. Generally, it is best to plan a dishwasher and a bin on either side of the sink for maximum practicality. Wine coolers are another popular choice for islands but consider building them into the side of the island that is used for socializing and keep away from the prep area.
Where to place any seating is the final part of the jigsaw. Most island seating is on high stools but if you have very young or elderly people in your household you might like to consider a lowered seating area instead. This can help to break up the area but bear in mind you need a little more space for a chair than a bar stool so it may be a compromise on the number of people you can incorporate. Finally try not to plan the seating in an area that will get in the way of other functions in the kitchen, for instance opening a fridge whilst people are seated or getting food out of an oven.

 Where can I buy a kitchen island?
If you're in search of the perfect kitchen island, look no further than Dobsons. We offer a diverse range of kitchen islands, including those with a sink and dishwasher for added convenience, islands with comfortable seating to enhance your dining experience, and islands featuring a built-in hob for versatile cooking options. To explore our extensive collection and find the ideal kitchen island that suits your needs and style preferences, we invite you to get in touch with Dobsons today. You can give us a call for personalised assistance, visit our exceptional kitchen showroom in Chestnut to experience the designs firsthand, or conveniently download our brochure for inspiration and ideas. Let Dobsons elevate your kitchen space with our innovative and functional kitchen island options.