The dictionary definition of the term 'bespoke' means "specially made for a particular person". A bespoke kitchen is therefore a kitchen that is designed and custom-built specifically to your individual requirements and style. In other words, expert craftspeople will create a completely unique kitchen space that not only perfectly fits your home and lifestyle, but it also looks stunning and will last for many years.
With an ordinary fitted kitchen, your kitchen design is restricted by the size of ready-made units, which come in standard sizes and may not fit perfectly into your room or around your preferred appliances. This means that design possibilities are limited, you'll not be able to make full use of storage space, and any gaps between the units and the wall will have to be bridged by potentially unsightly infill panels.
When you opt for a bespoke kitchen, you'll be getting a hand-finished, stunningly beautiful room. Our craftspeople can even create one-off pieces of furniture, such as an unusually shaped island, or perhaps your own pantry laid out exactly as you want it. Working with your ideas of a dream kitchen, we can create any piece of kitchen furniture you would like.
With that in mind, a bespoke kitchen is of course going to cost more than an 'off the shelf' one, but you will get a unique design and handmade kitchen cabinets built to your exact specifications, all of which will culminate in an outstandingly beautiful kitchen.

How Much Does a Bespoke Kitchen Cost?
How much your bespoke kitchen costs will vary depending on the size of your room and whether or not you need to do alterations, as well as all the design elements and appliances you choose.
Our bespoke kitchen projects usually start from £35,000, with a more typical range of £45,000-£75,000 depending on the size and style of the kitchen. As with any kitchen, it is always best to have a clear budget from the beginning, so our experienced bespoke kitchen designer can create the perfect kitchen within your price range.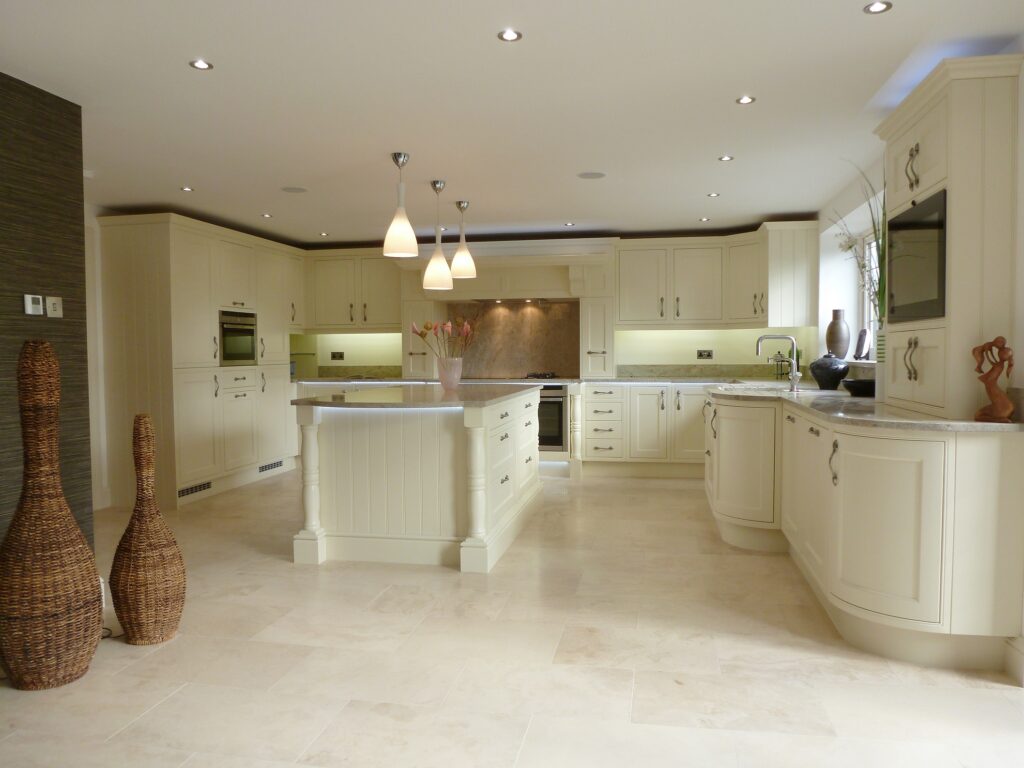 Bespoke Kitchen Design
As part of our service, we will project manage every aspect of your new kitchen project. After meeting with you, discussing your budget, finding out how you use your current kitchen and how you'd like to use your new one, we'll be able to find out what your ideal kitchen is. We can then tell you about the new technologies that are available that you might not be aware of, working out how they might fit in with your dream kitchen.
We will then work on your bespoke kitchen design and create a 3D computer visualisation that will allow you to 'walk through' the space. As this is still part of the planning stage, the design can be tweaked as much as needed. Once you're happy with what we've created together, we will give you a final quote and let you know the timeline for the installation work.
To make your life easier, we will work alongside your builder and architect, or carry out all the necessary building work in-house as part of our full service.
Luxury Bespoke Kitchens
Our luxury bespoke kitchen furniture is hand crafted by Stoneham, a British high end kitchen brand that combines the skills of artisans with the accuracy of state-of-the-art technology, high quality materials and custom finishes to produce some of the most incredible kitchens in the business. As soon as you are happy with your design, Stoneham's skilled craftspeople will make the units that will fit in seamlessly into your kitchen.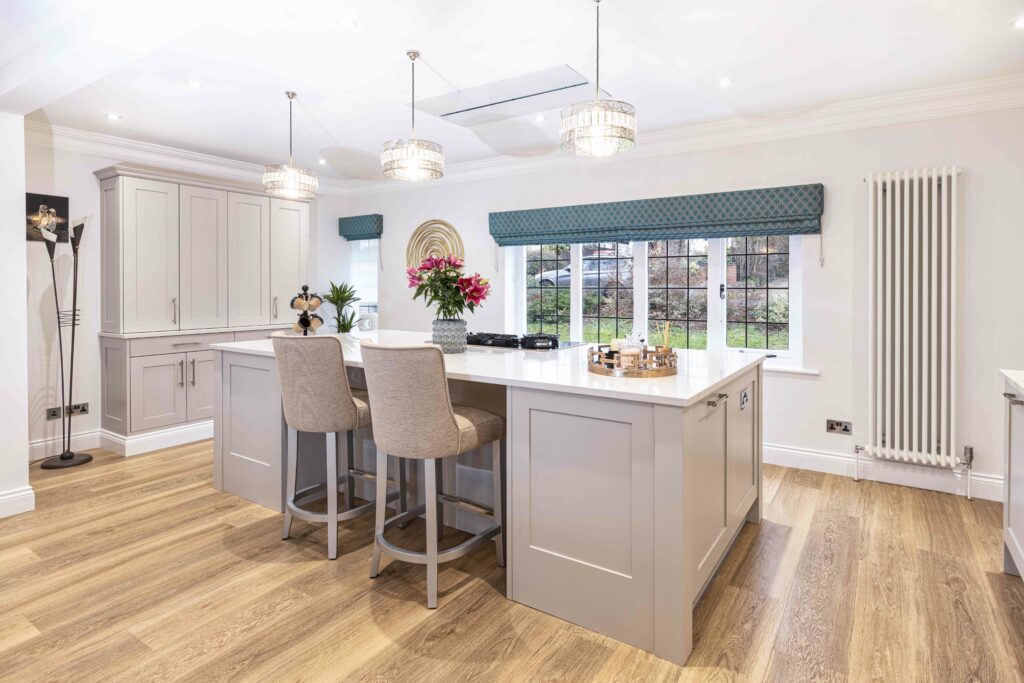 Pros and Cons of a Bespoke Kitchen
The biggest advantage of a bespoke kitchen is that it will be exactly what you want. Everything will have been included to your own specifications, giving you a kitchen that's not only a joy to use but also a joy to be in. Your tailor made kitchen will be unique and entirely to your taste.
An additional advantage is that, when it comes to selling your home, a fabulous bespoke kitchen will add value to your home, meaning that even if you're planning to move at some point in the near future, bespoke kitchens are a good investment.
A disadvantage is that there will generally be a longer lead time for bespoke furniture to be manufactured as opposed to off the counter kitchen units – typically bespoke kitchen units take 8-12 weeks. It is therefore always good to plan your project well in advance of when you may need it.
On the plus side, once the whole process is complete and your custom-made kitchen is installed, you'll be delighted with the results. With high quality cabinets and high end furniture, it will look great and function brilliantly, making cooking and entertaining a joy for many years. Your fully bespoke kitchen will be well worth the initial disruption, effort and overall expense.
If you would like more information and inspiration for a new tailor made kitchen, click here to request a brochure. Alternatively, make an appointment to visit our Cheshunt showroom and have a chat with one of our specialists. If you want to see examples of real kitchens we've installed, check out our portfolio or our Houzz page to see some of the projects we've worked on.
Call Us On: 01992 623066 | Visit Our Showroom | Download our brochure